Print Friendly Version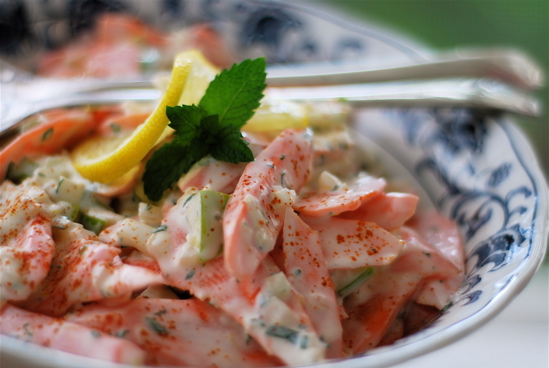 Hello friends! Here's another awesome salad recipe. I had a bunch of carrots in my fridge, a TON of mint growing in the herb garden…and this salad is the result. Crispy, crunchy, colorful, sweet and tart. Great with grilled fish or cold, marinated shrimp.
Serves 4 to 6 people
prep time- 5 minutes
cook time- 0 minutes (no cooking necessary)
1/3 cup greek yogurt
2 Tablespoons real mayonnaise
1 Tablespoon fresh lemon or lime juice
1 teaspoon lemon or lime zest
1 Tablespoon cider vinegar
1 Tablespoon clover honey
2 dashes cayenne pepper
5 medium carrots, peeled and sliced thinly on the diagonal
1/2 tart apple, unpeeled and chopped
1/4 cup finely chopped onion
2 Tablespoons fresh mint, chopped
salt and freshly ground pepper to taste
Combine yogurt, mayo, citrus juice, citrus zest, vinegar, honey and cayenne in a small bowl. Set aside. In a large bowl, combine the carrots, apple, onion, and mint. Mix well. Pour yogurt dressing over and mix until all ingredients are evenly incorporated. Season to taste with salt, pepper and a little more cayenne if you wish.
Enjoy!
~Melissa
You may enjoy these related posts: