Print Friendly Version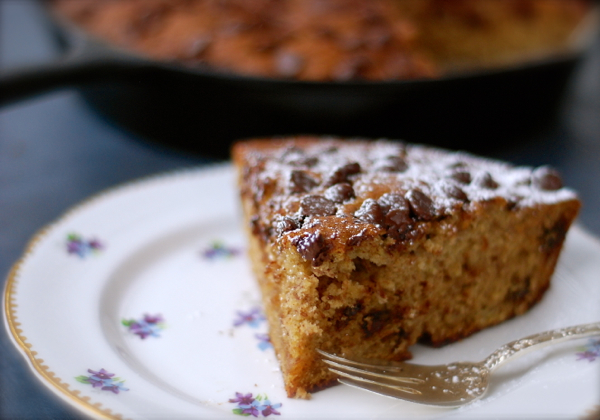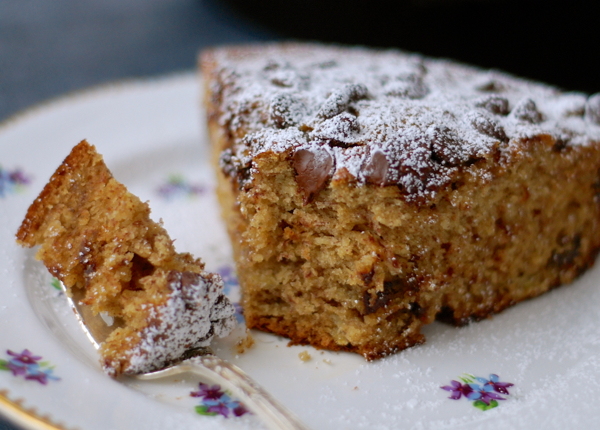 B-A-N-A-N-A-S! Go bananas! 🙂 That's what I've been doing these past few days. Well, not the going crazy version (yeah, right), the version where I can't stop cooking with them.
Here is yet another recipe for using up your ripe bananas. If this doesn't strike your fancy, you may want to check out this post where I share 19 other ways to use ripe bananas.
This little cake is so good, and it looks so pretty in the skillet. Serve with with a little powdered sugar sprinkled over the top, or with your favorite buttercream frosting. It's delicious either way.
~ preheat oven to 350 degrees F. ~
1/4 lb. + 1 Tablespoon softened butter
1 cup firmly packed brown sugar
3 very ripe bananas, mashed (medium size)
2 large eggs, lightly beaten
2 teaspoons pure vanilla extract (I love bourbon vanilla from Trader Joe's)
2 teaspoons ground cinnamon, divided
1/2 teaspoon salt
2 cups all purpose flour
1 teaspoon baking powder
1 teaspoon baking soda
1/4 cup buttermilk
1/3 cup white chocolate chips
1 cup semi sweet chocolate chips, divided
Butter a 10 inch cast iron skillet.
Cream the butter and sugar until smooth. Stir in the mashed bananas. Add eggs, vanilla, 1 and 1/2 teaspoons of the cinnamon and salt. Mix until all ingredients are evenly incorporated. Mix in flour and baking powder until smooth. Mix soda into the buttermilk and then stir into the batter. Fold in the white chocolate chips and 1/2 cup of the semi sweet chips. Scrape mixture into prepared skillet using a rubber spatula. Smooth top and sprinkle the rest of the chocolate chips over the top followed by the cinnamon. Bake 35 to 45 minutes or until a wooden skewer inserted into cake comes out clean. Cool in pan on a wire rack for 10 minutes before removing cake from pan to cool completely. This cake will keep in a cool dry place, in an airtight container, for several days. Serves 10 to 12.
Enjoy!
~Melissa
You may enjoy these related posts: