Print Friendly Version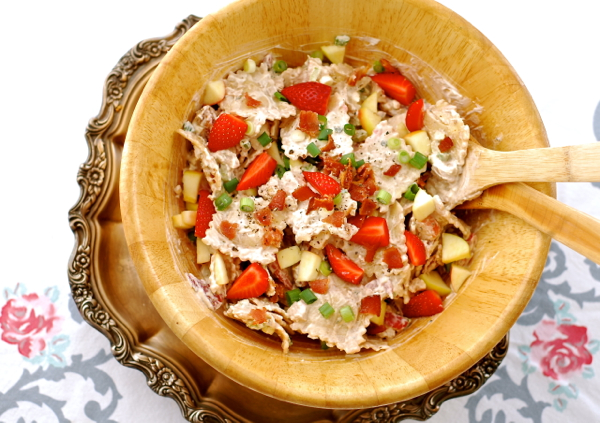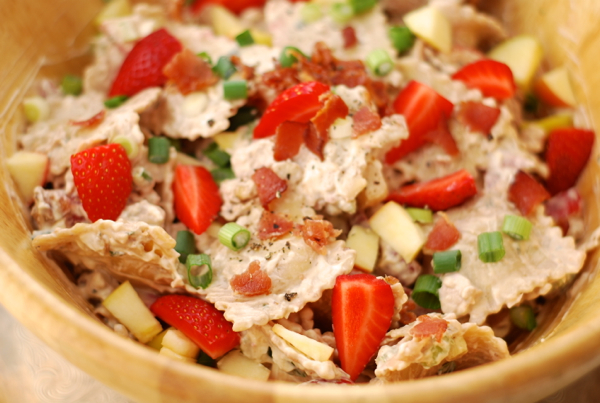 Can you tell I've been dreaming about summer? This pretty salad was inspired by dreams of a summer picnic. Can you see it? A big quilt under a shady tree, on a sunny day. A picnic basket, wildflowers and clover in a Mason jar, a book of poems, vintage linens and dishes printed with romantic floral patterns. Maybe a bottle of Pinot Grigio? Mmmmm….
Isn't this just the prettiest? Your guests will ooh and ahh before promptly asking for the recipe. Be prepared for them to make yummy noises. 😉
This salad is best when the chicken is grilled before chilling and cubing, but any cooked chicken will do. If you're in a hurry, use chilled, grocery store rotisserie chicken.
for the salad:
~ serves 8 as an entree, or 10 as an appetizer/starter ~
20 oz. refrigerated cheese ravioli
3 small, crisp apples, cored and chopped (I used Pink Lady)
1 lb. (16 oz.) fresh, organic strawberries washed and quartered, tops removed (reserve a few for garnish)
2 to 3 large stalks celery, chopped
6 green onions, chopped (including green tops) + more for garnish
1 and 1/2 cups coarse chopped walnuts or pecans
3 to 4 large chicken breasts, cooked, chilled and cubed (approximately 2 and 1/2 lb.)
1 lb. bacon, fried until crispy, cooled and crumbled (I use low sodium)
baby spinach, spring greens or chopped Romaine lettuce
apple juice salad dressing (recipe below)
Cook ravioli according to package directions for al dente pasta. Rinse under cold water and drain well. Toss with olive oil and chill in refrigerator until cold.
In a big mixing bowl, place prepared ravioli, apples, strawberries, celery, onions, walnuts, and chicken in bowl. Separate ravioli if needed. Gently toss everything with the apple juice salad dressing. Place beds of lettuce in pretty, shallow salad bowls and top with some of the salad mixture. Garnish with the bacon and reserved strawberries and green onion.
for the apple juice salad dressing:
2/3 cup real mayonnaise
1/2 cup sour cream
1/3 cup apple juice concentrate, undiluted
1/3 cup brown sugar, coconut sugar or raw honey
1 Tablespoon apple cider vinegar
1/4 teaspoon garlic powder
salt and pepper, to taste
Whisk all ingredients until smooth. Chill until ready to mix into salad.
Enjoy!
~Melissa
You may enjoy these related posts: