Print Friendly Version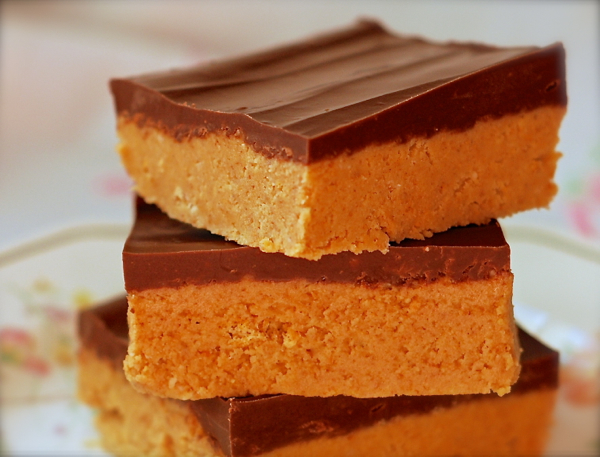 I have fond memories of school lunches. The chicken patty with cheese, the pizza, the chef salad, the Italian dunkers, the lunch lady hamburger soup, the sweet and sour meatballs with rice, the goulash, the brownies, the special K bars. Even the old school peanut butter and jelly sandwich on white bread accompanied by plain potato chips was good! These awesome peanut butter chocolate bars were my favorite though!
1/2 cup salted butter, melted
1 cup graham cracker crumbs
1 cup powdered sugar
3/4 cup + 2 Tablespoons creamy peanut butter
1 heaping cup semi-sweet chocolate chips
Generously butter an 8×8 square baking pan. Set aside.
In a large mixing bowl, combine melted butter, graham cracker crumbs, and powdered sugar until well mixed. Stir in 3/4 cup peanut butter until smooth. Spread in an even layer on the bottom of the prepared baking dish.
In a small microwave-safe bowl, mix the chocolate chips and remaining 2 Tablespoons peanut butter. Heat in microwave just until melted. Stir until smooth. Spread in an even layer over the  peanut butter/graham cracker layer. Chill for 3 hours or until very firm. Allow to sit on counter for 10 minutes before cutting into squares and serving. This will keep, covered in the 'fridge, for up to 10 days.
What was your favorite lunch lady specialty?
Enjoy,
~Melissa
You may enjoy these related posts: