Print Friendly Version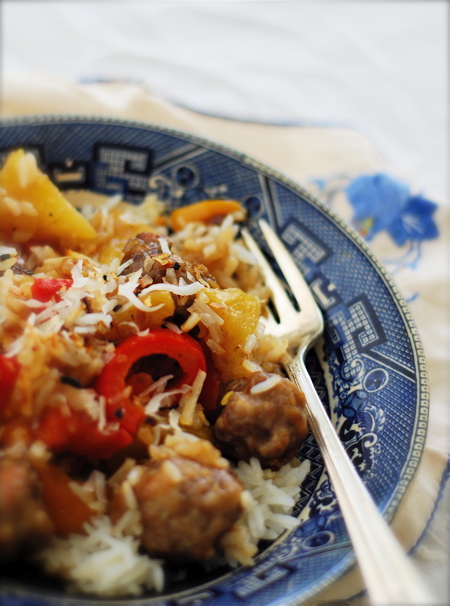 ~ luau meatballs ~
My friend Lisa over at Lisa's Dinnertime Dish made a "retro" meal a few days ago, Chowmein Casserole. It looked and sounded so yummy, it got me thinking about some of my favorite retro meals…the ones that sort of take me back in time to when I was a kid. Among these are: my grandma Darling's potato chip chicken , her chicken cacciatore, and her Swiss steak…homemade French dressing, my Papa's potato salad, my mom's spaghetti sauce, chicken and dumplings and porcupine meatballs…and this recipe for Hawaiian Meatballs. I actually can't remember the first time I ate this or where I was…but it does take me back to my childhood. The little meatballs are pork, they're fried, and using brown rice in this recipe would just wreck it. So, yeah. NOT health food. But make it and just take a bite…the time travel is worth it.
1/2 onion chopped
1 lb. ground pork
1 lb. ground chuck
1 egg
1/2 cup panko or dried bread crumbs
1 teaspoon salt
1/2 teaspoon freshly ground black pepper
1 cup flour
peanut oil
2 cups beef broth
2 Tablespoons soy sauce
1/2 cup white vinegar
1/2 cup sugar
2 Tablespoons cornstarch
sweet bell peppers in a variety of colors, coarse chopped
1 whole, fresh pineapple, cut into chunks
Sriracha
Combine the onion, pork, beef, egg, panko, salt and pepper until evenly and well mixed. Form into meatballs, place on a baking sheet and freeze for 15 minutes. Dredge in flour and fry in peanut oil until brown and crisp. Remove to a plate, and drain oil from pan. Fry up the peppers for a minute. Add the pineapple. Cook for one or two minutes more. Combine broth, soy sauce, vinegar, sugar and cornstarch well and add to the pan. Stir, simmering gently, for five minutes. Add a little Sriracha and serve over rice or egg noodles.
Enjoy!
~Melissa
You may enjoy these related posts: