Print Friendly Version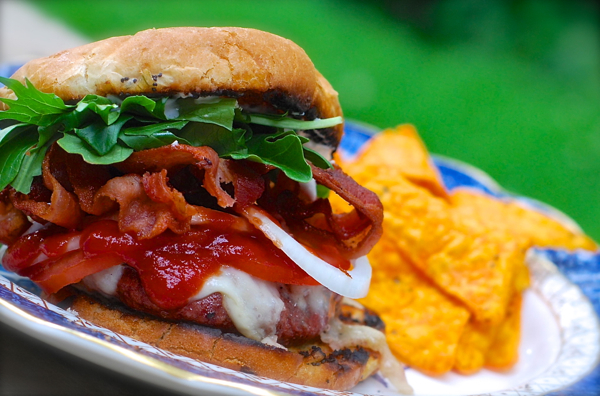 With all of the quinoa eating that's been going on around here, I'm craving a burger 😉 Here's one that we love to make when the burger urge strikes. This is a riff on Emeril's Bamburgers and we've gotten in the habit of making them for the 4th of July. These are juicy, spicy, flavorful and everything a burger should be. Perfection.
1 lb. ground sirloin beef
1 heaping Tablespoon prepared horseradish
1 heaping Tablespoon fresh minced garlic
1/2 teaspoon seasoned salt (we use Lawry's)
1 teaspoon freshly ground black pepper
4 sliced Havarti cheese (2 oz. each)
4 onion rolls, split in half and buttered
your favorite burger condiments
Preheat a gas or charcoal grill. Combine beef, horseradish, garlic, seasoned salt, and pepper in a mixing bowl. Using your hands, mix until thoroughly combined. Divide into 4 equal portions. Form into balls. Flatten to form 3/4-inch patties. Grill burgers for 2 minutes. Flip and place 1 slice of cheese on each burger. Cook for 2 minutes more for medium-rare burgers, or longer if you like your burgers well done. Transfer to a platter and cover with heavy duty foil to keep warm.
Spread both sides of each split roll with butter. Toast them on grill for about 30 seconds, watching them carefully so they don't burn. Put the burgers on the buns and serve immediately with your favorite condiments. We love ours with mayonnaise, ketchup, yellow mustard. sliced onions, bacon and lettuce or spring greens.
Enjoy!
~Melissa
You may enjoy these related posts: