Print Friendly Version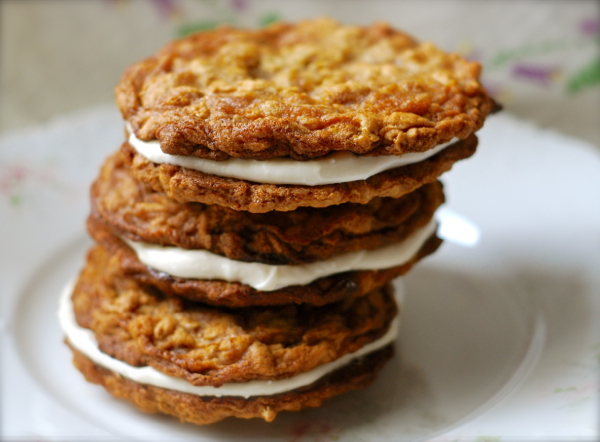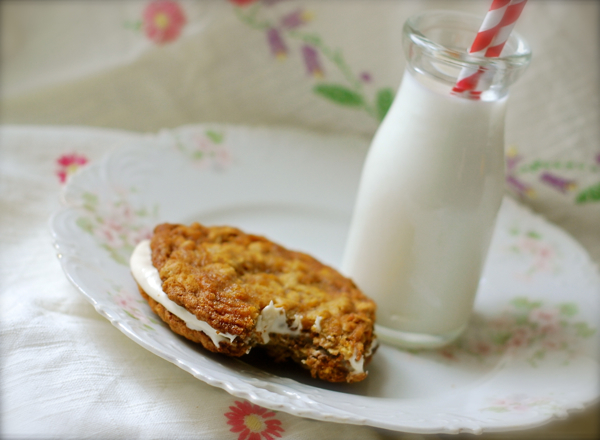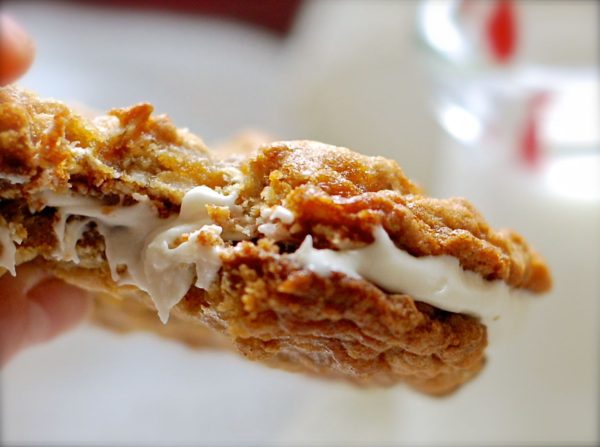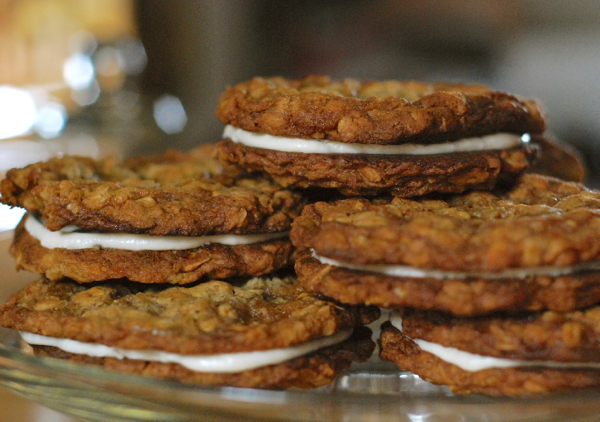 Are you a fan of the Little Debbie Oatmeal Cream Pies? I always liked them when I was younger, but I had one recently and was sort of surprised that they didn't taste the way I remembered them. I had been thinking about trying the homemade version when I came across this little gem of a recipe in my Amish recipe file. Oh my. Are these ever GOOD! I enjoyed one (again) today with my afternoon tea. Aren't they just the cutest?
The original recipe calls for raw egg white in the filling, which sort of freaks me out. I don't like the idea of eating raw eggs. So, I decided to change the recipe ever so slightly so the filling would still be light and fluffy (much like a meringue) but without the egg. I think what I came up with is divine. If you don't like the idea of eating vegetable shortening, you can substitute coconut oil. Orrrrr, you could make it super simple and just use jarred marshmallow fluff for your filling. Decisions, decisions…
for the oatmeal cookies:
~makes 12 to 15 big sandwich cookies ~
~ preheat oven to 425 degrees F. ~
3/4 cup unsalted butter (1 and 1/2 sticks)
2 cups packed brown sugar
2 large eggs
1 teaspoon pure vanilla extract
1 teaspoon salt
2 cups all-purpose flour
1 teaspoon baking powder
2 teaspoons ground cinnamon
1/8 teaspoon nutmeg
2 cups old fashioned rolled oats
2 teaspoons baking soda
3 Tablespoons boiling water
Lightly grease a large baking sheet, or line it with a Silpat mat or parchment. Set aside.
Combine butter, sugar, eggs, and vanilla in a large mixing bowl until light and fluffy. In a separate bowl, sift together the salt, flour, baking powder, cinnamon, and nutmeg. Add half of the dry mixture to the wet mixture. Mix well. Add the rest of the dry mixture and mix again until evenly combined. Add oats and mix until evenly distributed throughout the cookie dough. In a small dish, mix the baking soda and boiling water until soda is dissolved. Mix this into the cookie dough.
Drop by heaping Tablespoonfuls, 2 inches apart, on prepared baking sheet. Bake until golden brown around the edges and still slightly soft in the middle, approximately 9 to 12 minutes. Watch closely so cookies don't burn. Cool for 2 minutes on baking sheet before transferring them to a wire rack to cool completely. Repeat with rest of dough until you've used it all up.
While cookies are cooling, prepare the filling:
2 cups powdered sugar
1 Tablespoon pure vanilla extract
2 Tablespoons whole milk
1/4 cup vegetable shortening (such as Crisco)
1/2 cup marshmallow fluff
1/8 teaspoon salt
Mix powdered sugar with the vanilla and milk, whisking until smooth. Mix in shortening, marshmallow fluff, and salt until light and fluffy. Once cookies are completely cool, distribute the filling evenly between the cookies, creating "sandwiches."
Store in an airtight container, at room temperature, for 5 days.
Enjoy!
~Melissa
You may enjoy these related posts: