Print Friendly Version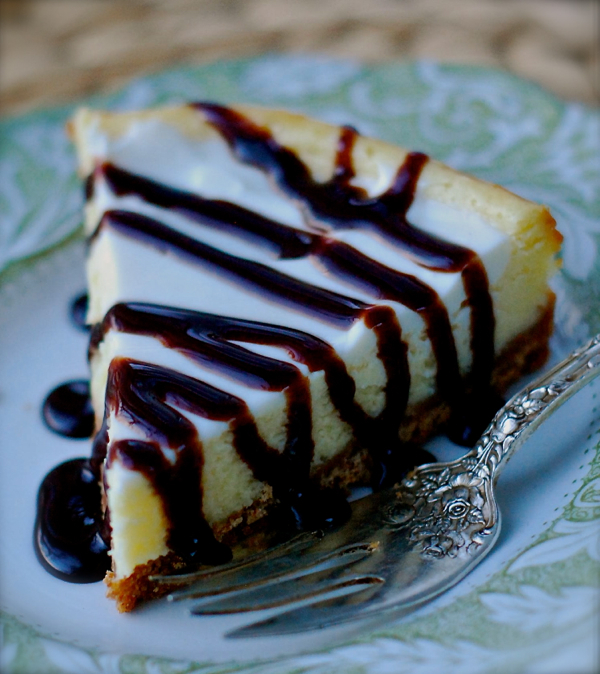 Grace has been busy in the kitchen again! She originally made this delectable, easy cheesecake in her home-ec class and made another for Super Bowl Sunday. It turned out perfect. Soooo delicious and creamy. Enjoy this dessert plain, drizzled with caramel and/or chocolate, topped with blueberry, cherry, strawberry, peach or lemon pie filling… or your favorite! The possibilities are endless!
1 and 1/2 cups finely crumbled graham crackers
6 Tablespoons melted butter
1/4 cup sugar
1 lb. cream cheese
2 teaspoons pure vanilla extract
1 and 1/4 cup sugar (divided)
3 large eggs
1 cup sour cream
1/8 teaspoon salt
For the graham cracker crust: In a medium mixing bowl, combine the graham cracker crumbs, melted butter and 1/4 cup sugar, using a fork, until all ingredients are moistened. Spread mixture evenly into a 10 inch, glass pie plate. Using your fingers, firmly press the mixture into the bottom and 1/2 inch up the sides of the pan. Freeze for 20 minutes.
For the cheesecake filling: Preheat oven to 300 degrees F. In a medium bowl, beat cream cheese until fluffy (approximately 30 seconds.) Don't over beat. Gradually beat in the 1 cup sugar and 1 teaspoon of the vanilla extract. Beat in 1 egg at a time, until just incorporated, scraping the sides of the bowl with a rubber spatula after each addition. Pour batter into crust and smooth the top. Place on a cookie sheet. Bake until center of cake barely jiggles when pan is tapped (approximately 45 minutes.) Turn off oven. Leave cake in oven and prop the door ajar. Allow cake to cool in oven for 1/2 hour. Remove from oven and place cake on cooling rack for 1 hour.
For the sour cream topping: Mix the sour cream, remaining 1/4 cup sugar, remaining 1 teaspoon vanilla, and 1/8 teaspoon salt in a small bowl. Spread over cake. Let cool completely in the pan. Cover and refrigerate at least 3 to 24 hours before slicing and serving.
Enjoy!
~ Grace & Melissa
You may enjoy these related posts: