Print Friendly Version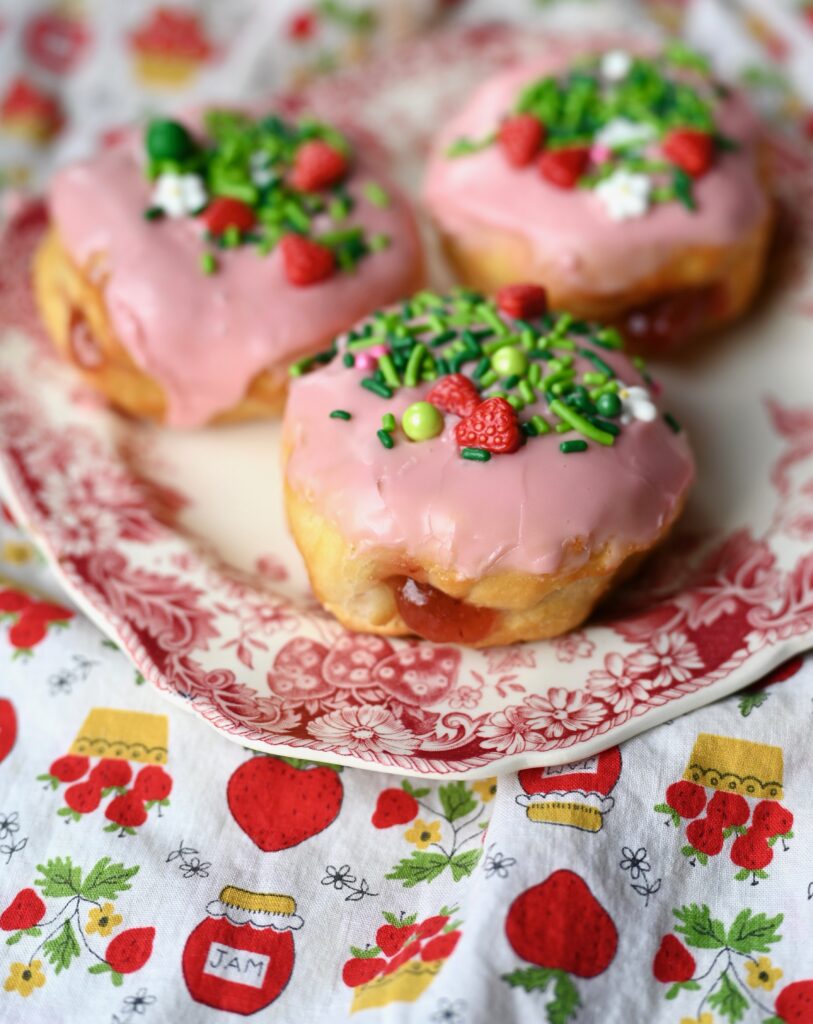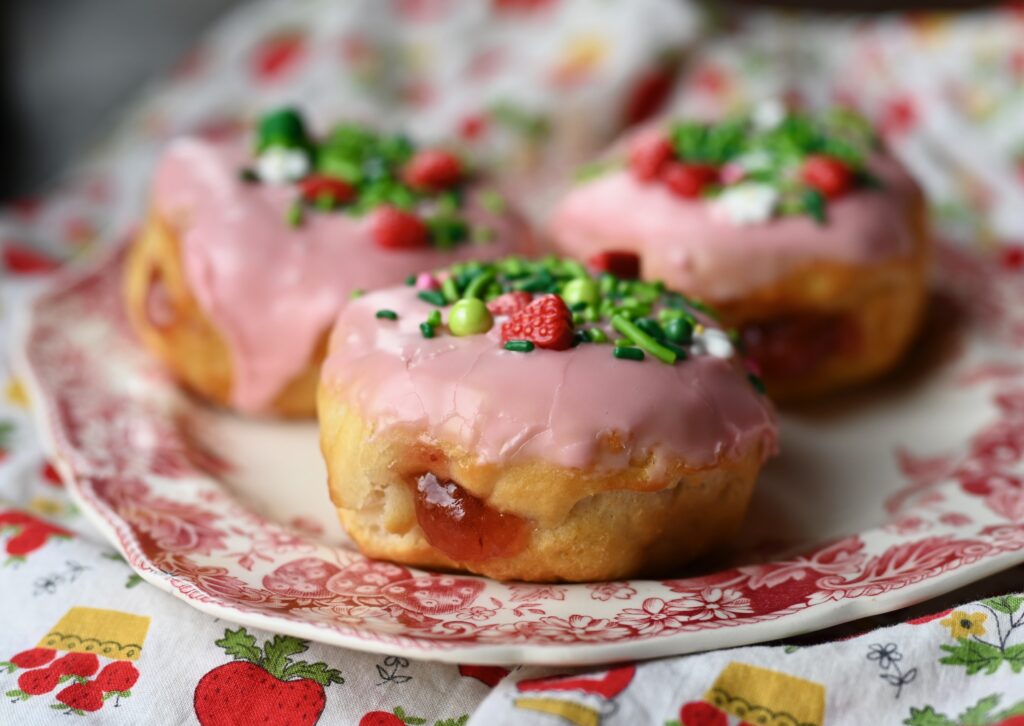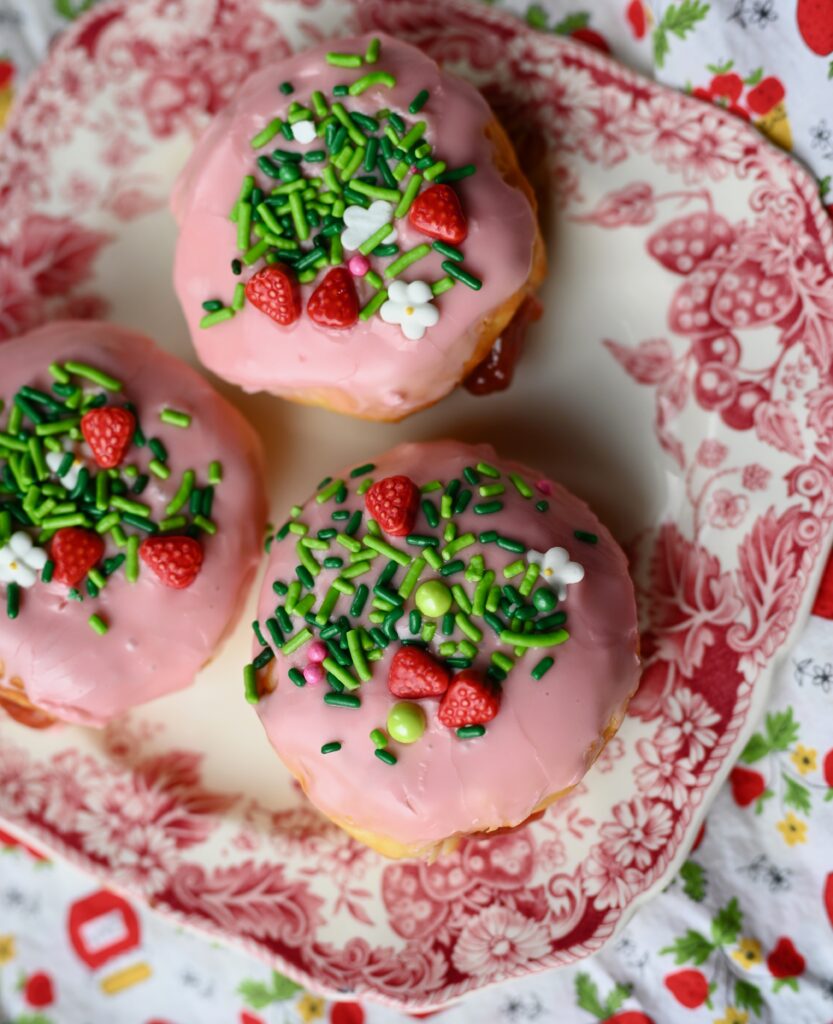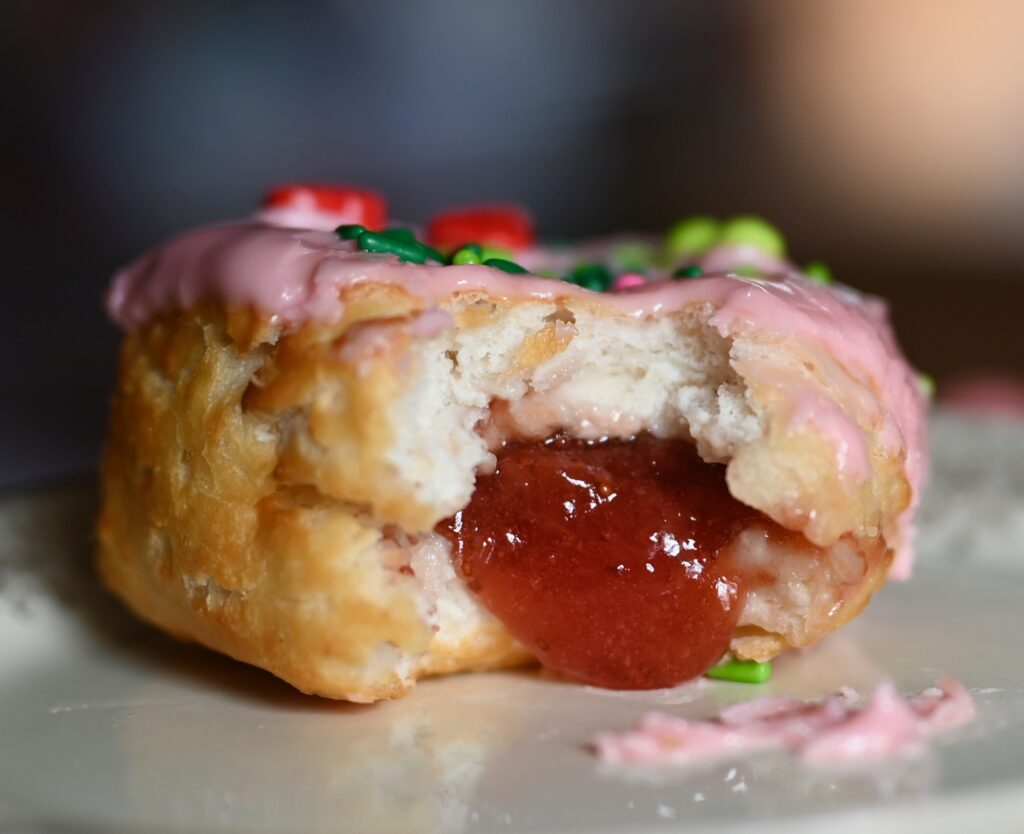 Ahhhh! Aren't these just the cutest donuts you've ever seen? The pink frosting and those SPRINKLES! Come on! How adorable would these be for a tea party, or Mother's Day brunch?
These little strawberry donuts look like something from a pastry shop but they take about 15 minutes to make. I'm serious. They're a riff on my air fryer donuts, but this time I decided to fill them with strawberry jam. My favorite!
I ordered the sprinkles from Amazon. I knew you were going to ask. 🙂
I think you're going to love how easy these are to make, and they're soooo delicious! Ready?
~ Makes 8 Donuts ~
First make the glaze:
1 and 1/2 cups powdered sugar
2 Tablespoons milk (I used plain soy milk)
1 teaspoon pure vanilla extract
1 drop pink food coloring
Place all ingredients in the bowl of a stand mixer and, using the whisk attachment, beat until smooth. Transfer to a little bowl with a lid. Cover and set aside while you make your donuts.
For the air fried donuts:
1 tube Pillsbury Grands biscuits (look for the ones without milk if you're vegan)
coconut oil (for the air fryer)
melted butter (I used organic Earth Balance)
glaze (recipe above)
strawberry jam
sprinkles or your choosing
Preheat air fryer for 3 minutes at 360 degrees F.
Once air fryer is hot, carefully rub the inside of the basket with a little coconut oil.
Place 4 biscuits in the basket. Make sure they're not touching. Air fry at 360 degrees F. for 2 minutes. Flip and air fry another 1 to 2 minutes. Check donuts during the frying process to make sure they don't get too dark or burn. Repeat with the remaining 4 biscuits.
Once they're light golden brown, transfer to a plate, brush all over with the melted butter, and then allow them to cool a bit. Dip in prepared glaze when they're still a little bit warm. Add sprinkles to the top.
Once the donuts have cooled to room temperature, poke a little hole in the side of each donut. Using a cake decorator's frosting tube, squirt some jam into each. If you don't have a decorator's tube, don't worry, you can use a Ziploc bag with the corner cut off. Easy peasy.
Enjoy!
~Melissa
You may enjoy these related posts: