Print Friendly Version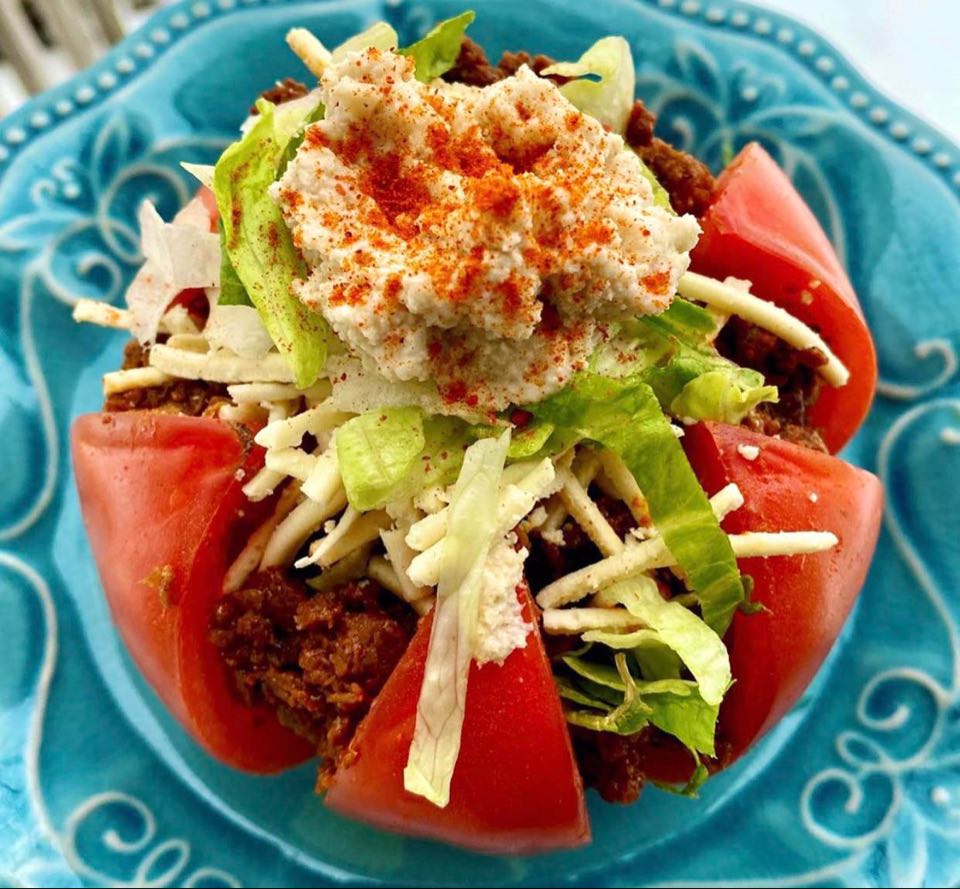 photo credit ~ Andrea Cline
It's that time of year when everyone seems to start gravitating towards light, fresh, easy meals. I, for one, don't like spending spring and summer days in a hot kitchen. I like meals that go together quickly and that take minimal ingredients.
This vegan taco-stuffed tomato is a great example of what I'm talking about. It's hearty enough to be the main course, but fresh and lovely, like a salad.
Just gather your ingredients, and within 20 minutes, dinner will be done.
1 lb. vegan Beyond Beef (not the crumbles)
1 medium onion, chopped
1 oz. taco seasoning (pre-packaged, or homemade)
4 large, ripe "beefsteak" tomatoes
1 cup shredded vegan cheddar cheese or whatever is your favorite (Violife and Chao are both good)
1/2 cup shredded iceberg lettuce
1/4 c. vegan sour cream or homemade cashew cream
Heat oil in a skillet. Once hot, add the chopped onion and saute until golden brown (about 5 minutes.) Add the Beyond meat and break it up with a wooden spoon. Sprinkle the taco seasoning over the meat and onions. Cook until browned and hot all the way through (this won't take as long as it takes to cook ground beef.)
Flip tomatoes over so they're stem-side-down. Using a very sharp knife, slice to make 6 wedges. Make sure you don't cut all the way through. Carefully spread the wedges apart. Place tomatoes on individual plates and divide the meat evenly between the tomatoes. Top with cheese, lettuce, sour cream/cashew cream, and hot sauce if you like.
Enjoy!
~Melissa
You may enjoy these related posts: