Print Friendly Version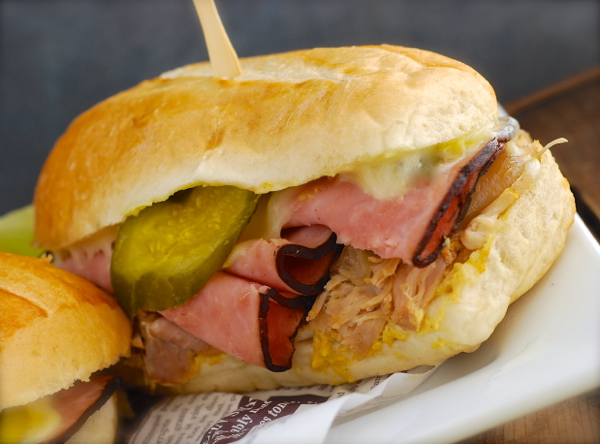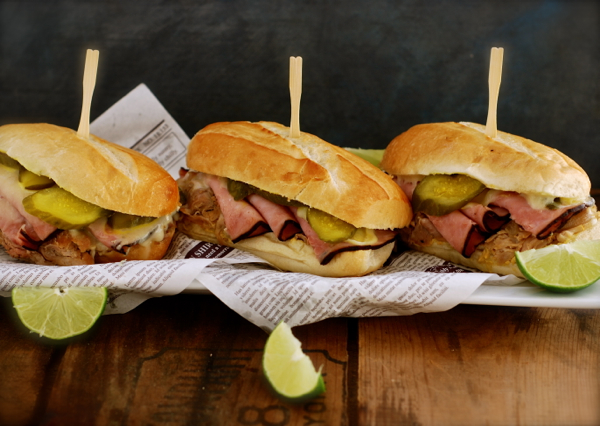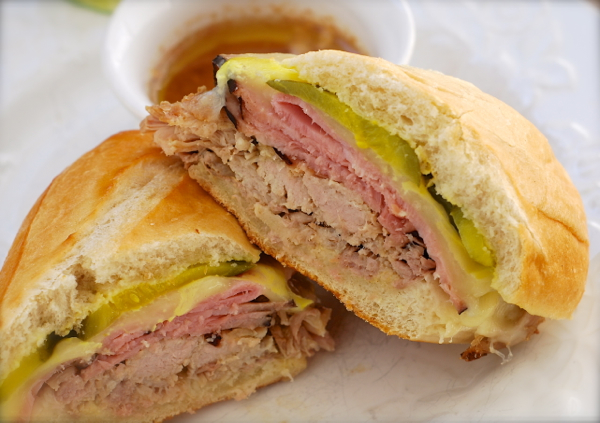 There are a few different schools of thought when it comes to making Cuban sandwiches. Some people use salami, and some don't. I don't. Some people use mayonnaise, and some don't. I do not. I make mine according to what some would consider "authentic" except for one big difference. Instead of roasting the pork, I slow cook it in my Crock Pot. The meat comes out perfect every time, and what's more, it is SO easy to prepare. I believe they taste even better when made this way. Try my recipe, and you be the judge.
Oh, and don't forget to make the Mojo Sauce! It positively makes this sandwich. YUM!
makes 8 to 10 sandwiches
4 lb. boneless pork butt/shoulder roast
1 large onion, chopped
1 cup orange juice
1/4 cup fresh lime juice
1 Tablespoon fresh, minced garlic
1 teaspoon cumin
1 teaspoon freshly ground black pepper
8 to 10 horizontally split French rolls OR Cuban bread (if you can find it)
softened butter
olive oil
yellow mustard OR Dijon mustard
1 and 1/2 lb. sliced ham
20 oz. Swiss cheese
2 to 3 cups thinly sliced dill pickles
Mojo Sauce (recipe below)
Place pork roast and chopped onion in slow cooker. In a small bowl, mix the orange juice, lime juice, garlic, cumin, and pepper. Pour the juice mixture over the meat and onions. Cover slow cooker and cook on LOW for 7 to 8 hours. You know the pork is done cooking when it shreds easily.
Remove pork from slow cooker and place it in a large bowl. Shred it using two forks.
~ preheat oven to 400 degrees F. ~
Set out 8 to 10 square pieces of foil (each of them should be big enough to wrap a sandwich completely.) Place roll bottoms on foil pieces. Butter them and spread a little mustard on each  (1 to 2 teaspoons.) Place about 1/2 cup (or more) of the shredded pork/onion mixture on each. Squeeze out the excess juice from the pork as you do this as to not add too much extra moisture to your sandwiches. The meat doesn't have to be dry, you just don't want it dripping wet. Next add a few slices (or more) of the ham. Top ham with a layer of Swiss cheese, and then a layer of sliced pickles. Butter the inside of the bun top. Spread a little more mustard on the bun (1 to 2 teaspoons,) and drizzle with a little olive oil (1/2 to 1 teaspoon.) Top sandwiches with bun tops. Working, one at a time, gently but firmly press sandwiches down and wrap them tightly in the foil pieces so the seam side is up on the foil packet. Place on a large baking sheet. Once all sandwiches are wrapped, place them in preheated oven and allow them to toast for 20 to 25 minutes.
While sandwiches are toasting, make up a batch of Mojo Sauce…
for the Mojo Sauce:
1 cup olive oil
4 large cloves garlic, minced
1 cup orange juice
3/4 cup fresh lemon juice
1 and 1/2 teaspoons cumin
Heat olive oil in large, heavy skillet. Add garlic. Cook for about 30 seconds. Remove from heat source and allow to sit until cooled considerably before adding the citrus juices, or it will spatter like crazy. Once cooled, add juices and cumin. Mix well, using a wire whisk. Return to heat and cook until simmering gently and reduced a bit. Pour into little ramekins for dipping sandwiches.
To serve: Remove sandwiches from foil and cut them in half on the diagonal. Plate and serve with the Mojo sauce. These sandwiches are so good served with oven roasted sweet potatoes and/or Cuban black bean soup.
Enjoy!
~Melissa
You may enjoy these related posts: