Print Friendly Version
Would you consider yourself a 'foodie?'
Are you a veracious reader of cookbooks?
Do you read "Food & Wine" or "Bon Appetit" instead of the newspaper?
Do you visit more than 5 food blogs daily?
If you answered yes to any of these questions, you're a foodie.
I love the movies that burst with amazing food and the stories of the people that cook these dishes.
My favorite "foodie" films are as follows, and in no particular order:
(Some of these are a little "steamy" so preview before watching with little ones.)
1) Ratatouille
"Remy is a young rat in the French countryside who arrives in Paris, only to find out that his cooking idol is dead. When he makes an unusual alliance with a restaurant's new garbage boy, the culinary and personal adventures begin despite Remy's family's skepticism and the rat-hating world of humans." ~IMDB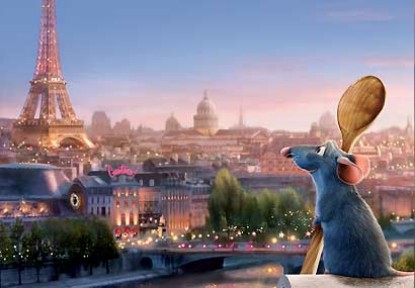 *
2) Big Night
"A failing Italian restaurant run by two brothers gambles on one special night to try to save the business." ~IMDB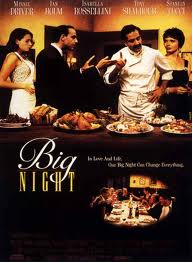 *
3) Eat Drink Man Woman
"A senior chef lives with his three grown daughters; the middle one finds her future plans affected by unexpected events and the life changes of the other household members." ~IMDB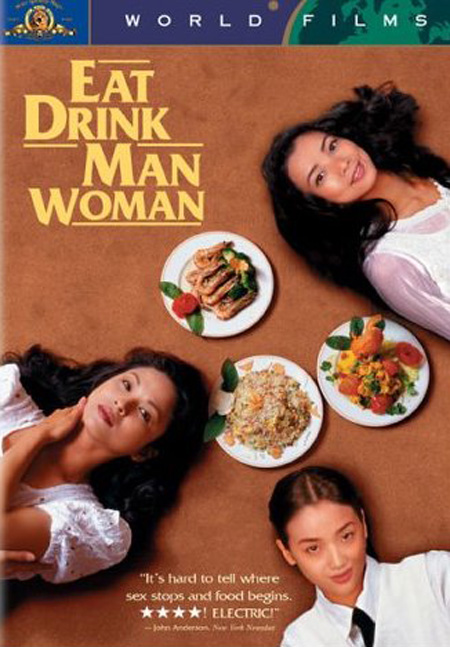 *
4) Babette's Feast
"In 19th century Denmark, two adult sisters live in an isolated village with their father, who is the honored pastor of a small Protestant church that is almost a sect unto itself. Although they each are presented with a real opportunity to leave the village, the sisters choose to stay with their father, to serve to him and their church. After some years, a French woman refugee, Babette, arrives at their door, begs them to take her in, and commits herself to work for them as maid/housekeeper/cook." ~IMDB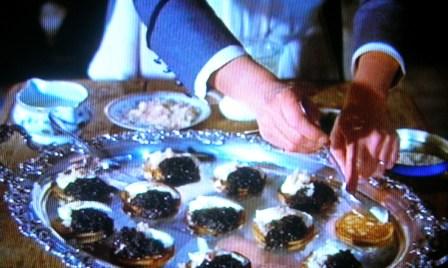 *
5) Tampopo
"In this humorous paean to the joys of food, the main story is about trucker Goro who rides into town like a modern Shane to help Tampopo set up the perfect fast-food noodle restaurant." ~IMDB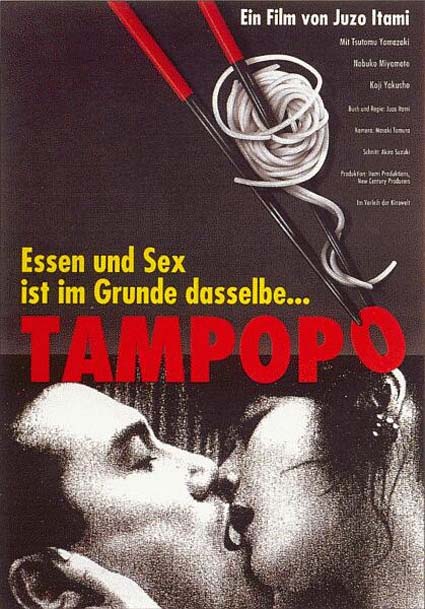 *
6) Like Water For Chocolate
"Tita and Pedro want to get married, but Tita has to take care of her ageing mother and is not allowed to marry. Pedro ends up marrying Tita's sister, but lets Tita know he only married her sister to be closer to her. When Tita is forced to make the wedding cake, the guests at the wedding are overcome with sadness… Tita has discovered she can do strange things with her cooking." ~IMDB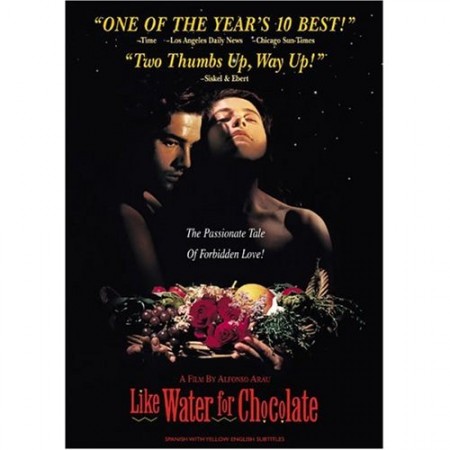 *
7) Julie & Julia
"Julia Child's story of her start in the cooking profession is intertwined with blogger Julie Powell's 2002 challenge to cook all the recipes in Child's first book." ~IMDB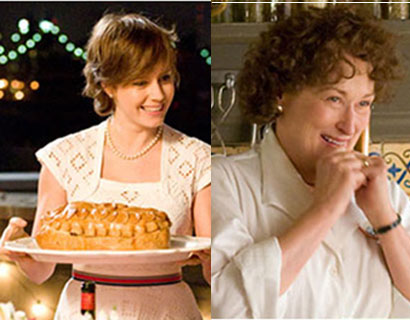 *
8 Chocolat
"A woman and her daughter open a chocolate shop in a small French village that shakes up the rigid morality of the community." ~IMDB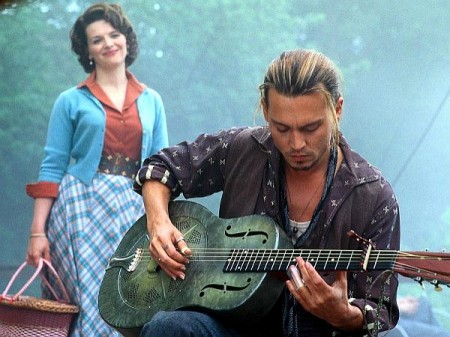 *
9) No Reservations
"The life of a top chef changes when she becomes the guardian of her young niece." ~IMDB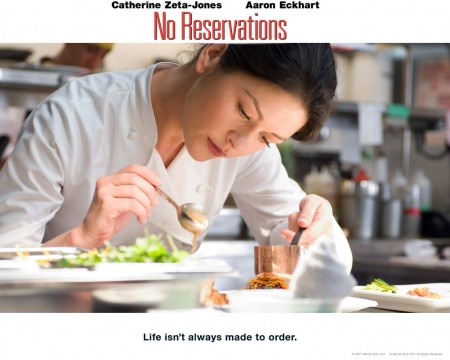 *
10) Spanglish
"A woman and her daughter emigrate from Mexico for a better life in America, where they start working for a family where the patriarch is a newly celebrated chef with an insecure wife." ~IMDB
*
11) The Cook, The Thief, His Wife and Her Lover
"The wife of an oafish restaurant owner becomes bored with her husband and considers an affair with a regular patron." ~IMDB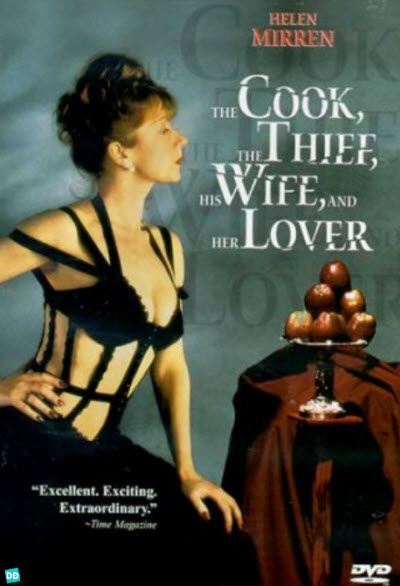 *
12) Waitress
"Jenna is a pregnant, unhappily married waitress in the deep south. She meets a newcomer to her town and falls into an unlikely relationship as a last attempt at happiness." ~IMDB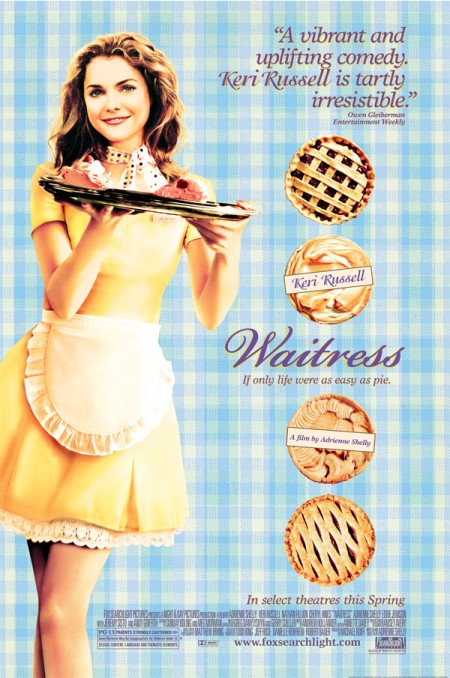 *
13) Woman on Top
"Brazilian chef Isabella Oliveira moves to San Francisco when her husband, frustrated by her motion sickness, cheats on her." ~IMDB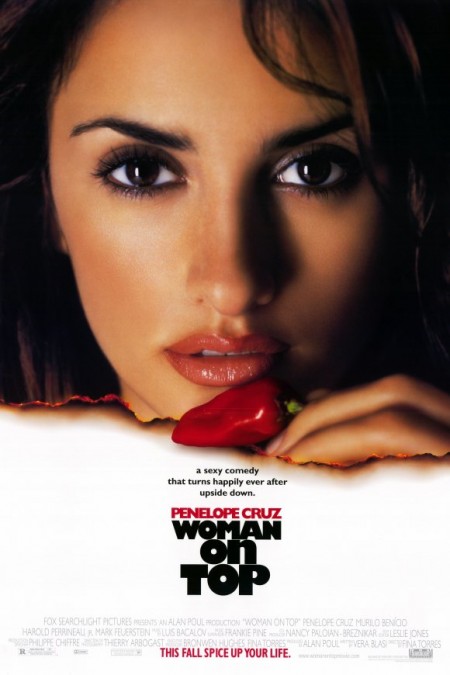 *
14) Tortilla Soup
"A Mexican-American master chef and father to three daughters has lost his taste for food but not for life." ~IMDB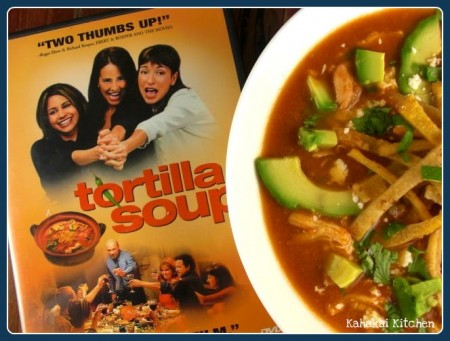 *
15) Felicia's Journey
"A lonely middle-aged catering manager spends all of his time studying tapes of an eccentric TV chef. Meanwhile, a young woman is making her way from Ireland to find her boy friend, who moved to England to get a job in a lawn-mower factory." ~IMDB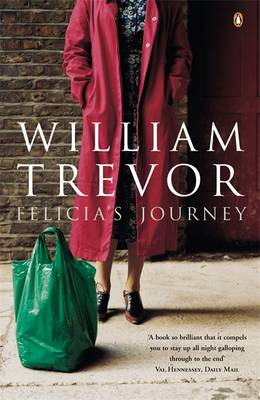 *
16) The Fish Fall in Love
"After 22 years, Aziz decides to return to his hometown, to sell some family possessions, including the house where he was born. But for his astonishment, the place is now a small restaurant, run by four women, one of them a girl whom he once dated." ~IMDB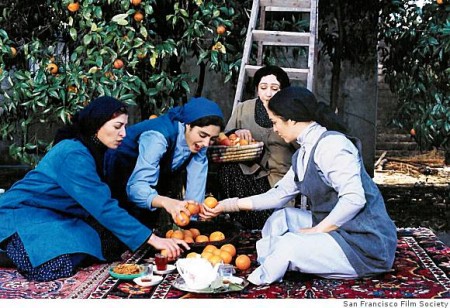 *
17) Age of Innocence
"Tale of 19th century New York high society in which a young lawyer falls in love with a woman separated from her husband, while he is engaged to the woman's cousin." ~IMDB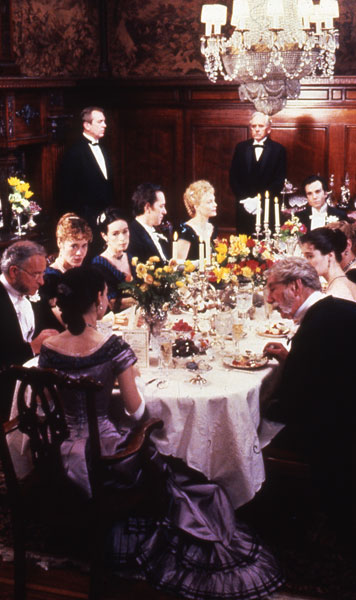 *
18 L'Aileou la Cuisse
"Charles Duchemin, a well-known gourmet and publisher of a famous restaurant guide, is waging a war against fast food entrepreneur Tri- catel to save the French art of cooking. After having agreed to appear on a talk show to show his skills in naming food and wine by taste, he is confronted with two disasters: his son wants to become a clown rather than a restaurant tester and he, the famous Charles Duchemin, has lost his taste!" ~IMDB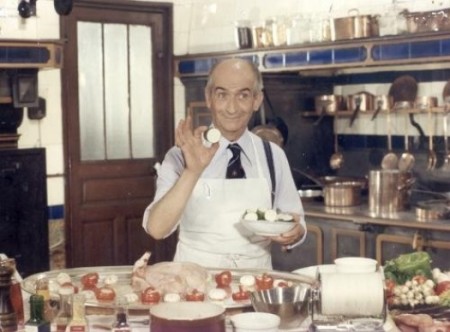 *
19) Mostly Martha
"When a headstrong chef takes charge of her equally stubborn 8-year-old niece, the tensions between them mount… until an Italian sous-chef arrives to lighten the mood." (The Original 'No Reservations') ~IMDB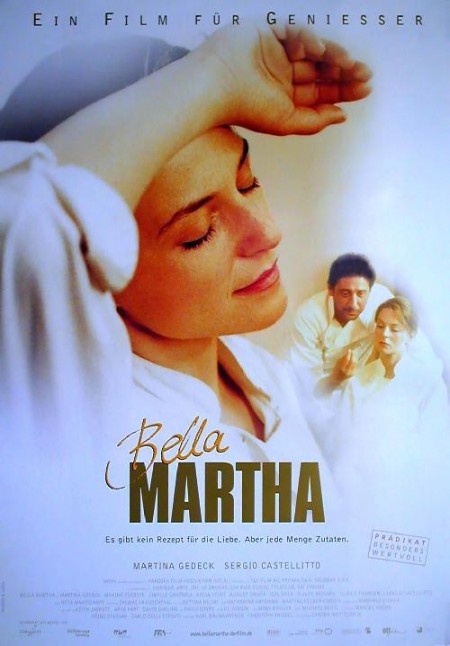 *
20) Bottle Shock
"The story of the early days of California wine making featuring the now infamous, blind Paris wine tasting of 1976 that has come to be known as 'Judgment of Paris'." ~IMDB
Make something delicious, pour yourself a glass of really good wine  and indulge in a fabulous film where the star of the show is YUMMY food.
Do you have a favorite "foodie" film?
~Melissa
You may enjoy these related posts: