Print Friendly Version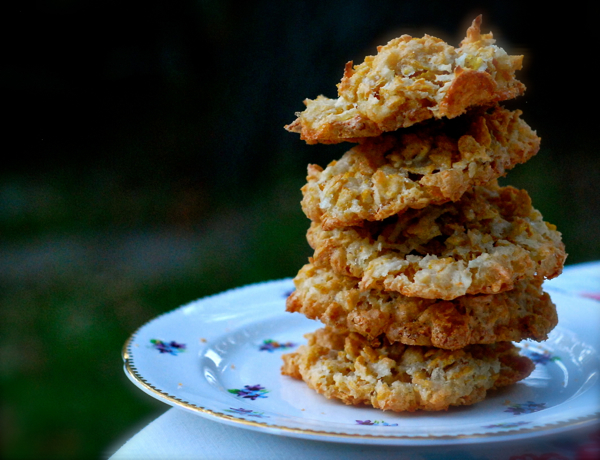 Sweet, chewy macaroons with a surprise ingredient. Cornflakes! They positively MAKE these cookies! We love them with a cup of hearty black tea or coffee. They're the perfect lunchbox treat!
~ preheat oven to 350 degrees F. ~
4 large egg whites
1 cup coconut sugar OR white, granulated sugar
2 cups shredded coconut
2 Tablespoons all purpose flour
4 cups cornflakes
2 teaspoons vanilla extract
coarse sea salt
Lightly oil 2 cookie sheets with vegetable oil (butter or olive oil will burn.)
Beat egg whites until frothy. (I use my Kitchen Aid counter top mixer for this… whisk attachment.) Once frothy, add the sugar, coconut, flour, cornflakes and vanilla. Gently fold all ingredients together until well combined, mooshing the cornflakes as you go to crush them up a bit.
Using an oiled ice cream scoop, spoon 8 portions of the mixture in even amounts on a prepared cookie sheet, pushing down on each macaroon as you go so the ingredients stick together. Place them approximately 2 inches apart. Sprinkle a little coarse sea salt on each cookie. Bake for 15 to 20 minutes or until the macaroons are golden brown (18 minutes was the perfect amount of time for my oven.) Watch closely so they don't burn. Allow to cool on cookie sheet for 5 minutes before transferring to a rack to cool completely.
 Repeat with the rest of the macaroon mixture and prepared cookie sheet. Don't bake both batches at once. Yield: 16 macaroons.
Enjoy!
~Melissa
You may enjoy these related posts: