Print Friendly Version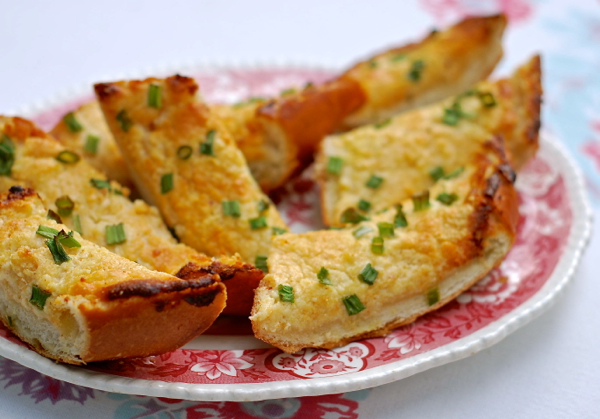 Whenever the hubby has a yen to turn our kitchen into an Italian trattoria and make his famous spaghetti, I volunteer to make the garlic bread. Honestly, I rarely deviate from THIS awesome garlic bread recipe, but once in awhile I change it up.
And then I wish I had made our favorite. It's called "The Best Garlic Bread on the Planet" for a reason.
Yesterday, however, was an exception. OH. MY. YUM. The secret ingredient*** adds just a touch of sweetness, not too much, but just enough to make this bread intriguing and amazing. Jeff and Grace made yummy noises while dunking slices of it into their spaghetti sauce. I decided then and there that this recipe is a "must share!" Hope you love it as much as we do.
~ preheat oven to 425 degrees F. ~
1 long loaf French bread (the soft type, not baguette)
1 cup grated Parmesan cheese
1/4 cup unsalted butter, softened
1/4 cup real mayonnaise (no substitutes)
2 Tablespoons buttermilk ranch dressing
2 teaspoons honey***
4 large cloves fresh garlic, minced
1 teaspoon onion powder
1/2 teaspoon cayenne pepper
green scallion tops or chives, snipped
Split loaf lengthwise and place both halves, cut side up, on a large baking sheet. In a medium bowl, combine: Parmesan cheese, softened butter, mayonnaise, ranch dressing, honey, minced garlic, onion powder, and cayenne pepper. Mix well. Spread evenly over the cut sides of the loaf halves. Sprinkle tops with some snipped scallion tops or chives.
Place in preheated oven and bake for 10 to 15 minutes, or until hot and slightly golden brown around the edges.
Enjoy!
~Melissa
You may enjoy these related posts: