Print Friendly Version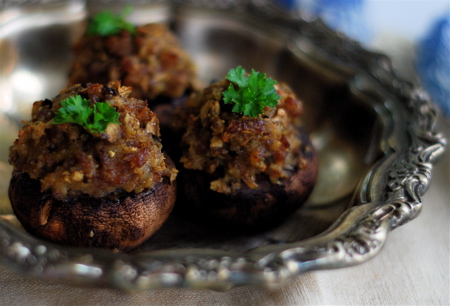 ~ Jana's Stuffed Mushrooms ~
This is one of my new favorite appetizer recipes! I make another stuffed mushroom dish that is more like a main course, with big portobello mushroom caps stuffed with spinach, chevre, red bell peppers and fresh mozzarella. This is a rendition of a recipe my friend Jana gave to me. I made a couple minor changes and they turned out soooo good. I hope you love it as much as we do!
preheat oven to 375 degrees F.
2 (16 oz.) packages baby bella mushrooms
1 lb. Italian sausage
2 Tablespoons dry bread crumbs
2 Tablespoons grated fresh Parmesan cheese
1 egg, lightly beaten
2 garlic cloves, minced
3 Tablespoons finely chopped onion
freshly ground black pepper
fresh parsley sprigs for garnish
Wash mushrooms and carefully remove the stems and chop them up. Dry the mushrooms by gently blotting them with paper towels. Brown the sausage and onion and place in a mixing bowl with the chopped mushroom stems, bread crumbs, Parmesan, egg, garlic, and black pepper. Mix well and stuff the mushrooms with the mixture. Place stuffed mushrooms on a lightly buttered baking sheet and bake for about 15 minutes or until heated through. Garnish with parsley sprigs. Enjoy immediately. These make a great cocktail party appetizer or part of a savory course for afternoon tea.
Happy TeaTime Tuesday!
~Melissa
You may enjoy these related posts: