Print Friendly Version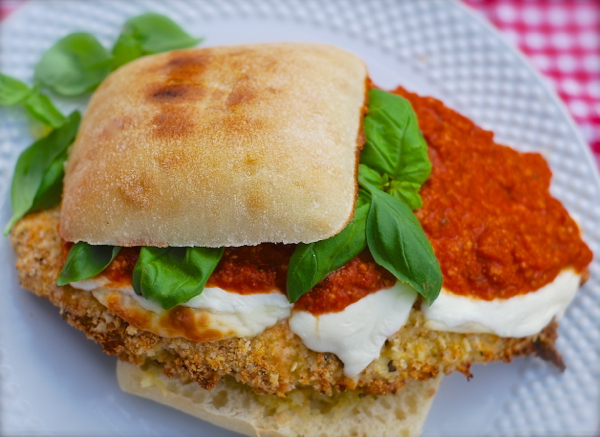 There are sandwiches and then there are SANDWICHES! This is one of those sammys that is so big you have to use two hands to eat it. The chicken is pounded flat prior to baking which yields a tender, juicy chicken breast that cooks more evenly. It's also what contributes to the chicken positively falling off the bun. Use one breast to make two sandwiches, if you wish, but I personally like to see peoples' faces when I serve them the whole thing. So yummy! Don't forget the napkins!
for 4 to 8 sandwiches:
~ preheat oven to 400 degrees F. ~
4 large boneless skinless chicken breasts
2 large eggs, beaten
1/4 cup mayonnaise
1 cup panko breadcrumbs
1/2 cup regular dry bread crumbs (I use Progresso, Italian seasoned)
2/3 cup grated Parmesan cheese, divided
1 heaping Tablespoon dry Oregano
1 teaspoon garlic powder
1 teaspoon onion powder
1/4 teaspoon freshly ground black pepper
15 oz. spaghetti sauce, pizza sauce, or marinara
12 oz. fresh Mozzarella cheese, sliced
fresh basil leaves
fresh, minced garlic
buttered Ciabatta rolls
Place chicken breasts in two separate, large Ziploc bags. Remove as much air as you can from bags, and seal tightly. Pound breasts flat using a meat pounder, the side of a hammer, or even a rolling pin. Pound until 1/2 inch thick.
Place eggs and mayonnaise in a medium, shallow bowl. Whisk to combine.
Place panko, bread crumbs, half of the Parmesan cheese, oregano, garlic powder, onion powder, and pepper in a large mixing bowl. Mix well.
Place a baking rack on a large baking sheet.
Dip prepared chicken breasts, one at a time, in the egg mixture. Gently shake off excess. Dredge in dry, Panko mixture until coated well, using your hands to press crumbs to the chicken so it adheres well.
Place coated chicken breasts on baking rack. Once all chicken breasts are coated and on rack, place the rack (that's set over a baking sheet) in preheated oven. Bake for 20 minutes. Remove from oven. Place approximately 3 oz. Mozzarella on each chicken breast. Return to oven and bake an additional 10 minutes, or until cheese is melted and slightly golden around edges.
While chicken is cooking, toast rolls, and spread a little butter on each roll half, followed by a sprinkling of fresh, minced garlic.
Heat sauce and the rest of the Parmesan cheese in a saucepan.
Place a chicken breast on each of the rolls (for 4 big sandwiches) or cut the breasts in half and there will be enough for 8 sandwiches. Top with some of the sauce and some fresh basil.
Enjoy!
~Melissa
You may enjoy these related posts: