Print Friendly Version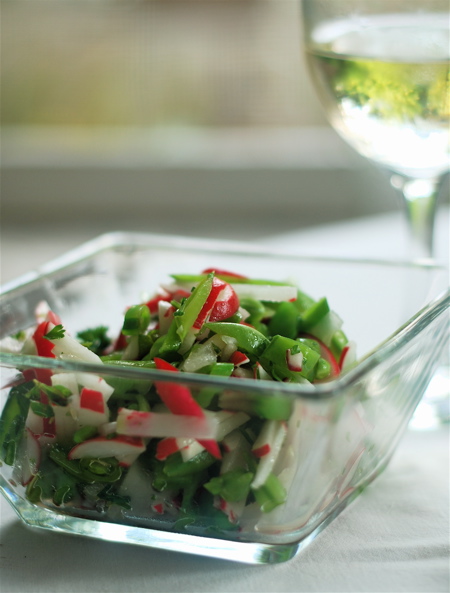 ~ sugar snap pea & radish salad with fresh herbs ~
A pretty, healthy salad that only takes minutes to prepare. It's fun to play with the fresh herbs in this recipe to get exactly the flavor you like.
2 bunches of radishes washed and chopped into thin strips
1 and 1/2 cups sugar snap peas, chopped on the diagonal
1/4 cup finely chopped onion
1/2 cup chopped fresh herbs (I used parsley, thyme, oregano and chives)
1/4 cup white wine
1/4 cup white vinegar
1/4 – 1/3 cup white sugar
salt and pepper
Combine the radishes, snap peas, onion and herbs in a medium size salad bowl. Mix the wine, vinegar, sugar salt and pepper in a small bowl until sugar in dissolved. Adjust the dressing ingredients so it tastes as sweet/salty/peppery as you think it should. Pour the dressing over the radish mixture, and stir until evenly distributed. Serve immediately.
Enjoy!
~Melissa
You may enjoy these related posts: