Print Friendly Version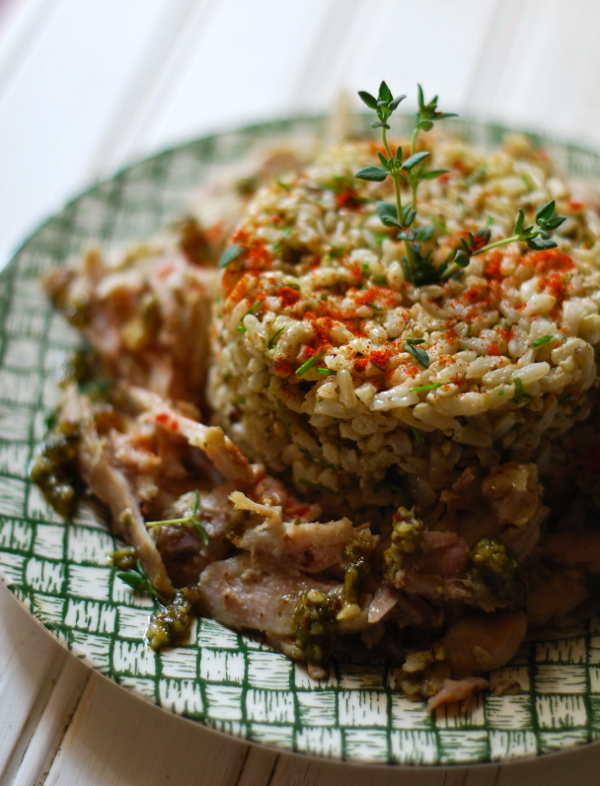 Who loves cooking with their crockpot? Me! It makes cooking on busy days such a breeze. This particular recipe will require additional time at the end for making the rice. I used brown rice, but you can use white rice if you prefer. Another great way to cut down on cooking time… buy the pre-made pouches of rice and just heat them up in the microwave when it's time to eat. Easy Peasy!
for the chicken:
3 lb. boneless skinless chicken thighs, fresh or frozen
6 oz. homemade or store bought pesto
1 packet dry ranch dressing mix (I used Hidden Valley)
enough chicken broth to immerse the chicken half way (1/2 cup to 1 cup)
Place the above ingredients in a large (6 to 7 quart crock pot.) Cook on low heat for 6 hours.
for the rice:
Make stock using the drippings in the crockpot + 4 cups of water
Take 4 cups of that stock mixture and bring it to a rolling boil.
Add 2 cups brown rice. Bring it to a boil again.
Reduce heat. Cover and cook until tender. (35 -40 minutes.)
To serve: Spoon some of the rice into a teacup. Smooth the top. Invert onto the center of a plate. Surround the rice with the chicken thighs, shredded, or cut into pieces. Garnish with fresh herbs.
Enjoy,
~Melissa
You may enjoy these related posts: