Print Friendly Version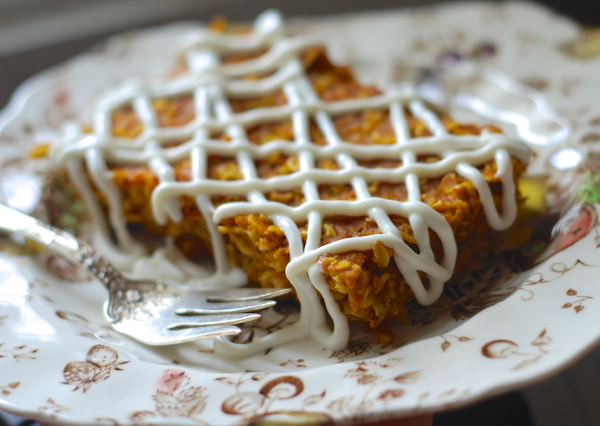 In the autumn and winter months I like to see how many new pumpkin recipes I can come up with. The reason for this is threefold. First, pumpkin is wildly popular and the recipes get shared like crazy among pumpkin enthusiasts. Second, it bugs some people that there are so many pumpkin recipes and I have to show them that I'm not planning on backing down just because they don't like pumpkin or pumpkin recipe mongers. Seriously, pumpkin haters. Calm down. 🙂 Third, and most importantly, pumpkin is ridiculously good for you.
Pumpkin is rich in Vitamin A which is one of the most important components to nourishing beautiful skin, eyes, nails, hair and teeth. Pumpkin is good for your bones too! It's a natural anti-inflammatory, and positively loaded with fiber and beneficial antioxidants. Need I say more?
Okay, if you hate pumpkin, you can feel free to substitute almost any other fruit puree in place of the 15 oz. can that this recipe calls for. Bananas, mango and applesauce are good choices.
for the baked oatmeal:
~ preheat oven to 350 degrees F. ~
~ serves 8 ~
4 cups old fashioned rolled oats (not quick cooking and not steel cut)
1 cup unsweetened almond milk, or your favorite milk
1 (15 oz.) can pure pumpkin puree (NOT pumpkin pie filling) OR 1 and 3/4 cup other fruit
2 large eggs, lightly beaten
1/2 cup pure maple syrup OR raw honey
1/2 cup cookie butter (such as Biscoff or Speculoos. I used Trader Joe's Pumpkin Spice)
1 teaspoon pure vanilla extract
2 teaspoons pumpkin pie spice
1 teaspoon sea salt
1/4 teaspoon ground cloves
Butter a 9×13 glass cake pan.
Place all ingredients for the baked oatmeal in a large mixing bowl and mix until all ingredients are completely combined and evenly incorporated. Transfer to the prepared cake pan and smooth the top using a rubber spatula. Bake for 30 minutes in preheated oven, or until very hot throughout and completely set.
Remove from oven and allow to cool for a few minutes before cutting into 8 pieces. Top each serving with a little butter and some maple yogurt glaze.
for the maple yogurt glaze:
plain greek yogurt
pure maple syrup
cinnamon
Place some yogurt, maple syrup and cinnamon in a mixing bowl. Adjust each ingredient to taste. Transfer to a squirt bottle and drizzle each individual serving of the baked oatmeal with some of the glaze.
Refrigerate any baked oatmeal or glaze that aren't going to be eaten right away. Both will keep in your refrigerator for 5 days. Shake glaze before using.
Enjoy!
~Melissa
You may enjoy these related posts: