Print Friendly Version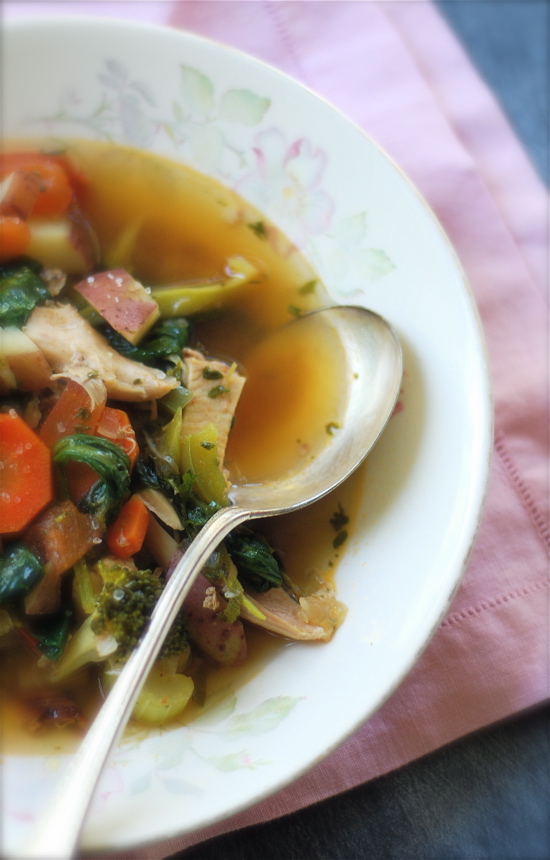 During World War II, "victory" gardens were encouraged as a way to support the troops. When people grew their own vegetables, there were more supplies that could then be sent overseas to the soldiers. This soup is inspired by that era.
4 cups cooked chicken, cut into bite size pieces
1 large onion, chopped fine
1 Tablespoon olive oil
6 to 8 cups homemade chicken stock or broth
2 teaspoons onion powder
1 garlic clove or 1 teaspoon garlic powder
salt and pepper to taste
1 cup dry white wine
1 pound red potatoes, unpeeled and cut into 1/2-inch pieces
1 large tomato, unpeeled, chopped
3 medium carrots, peeled and cut into coins
a handful of fresh green beans, trimmed and cut into 1-inch pieces
2 small zucchini or summer squash, trimmed and cut into 1/2-inch pieces
1 cup small broccoli florets
2 stalks celery, sliced
1/2 cup sweet bell pepper, coarse chopped
4 cups fresh spinach leaves
1/3 cup chopped, fresh herbs (I used basil, parsley and sage)
Chop pre-cooked chicken into 1/2-inch pieces. In a large stock pot or Dutch oven, saute the onion in the olive oil. Add chicken broth, wine, onion powder, garlic powder, salt and pepper, and all of the other ingredients except the spinach and chicken. Simmer for about 15 minutes, or until all veggies are tender but not mushy. Add the chicken and spinach. Cook an additional 5 minutes or just until the chicken is heated through.
Enjoy!
~Melissa
You may enjoy these related posts: