Print Friendly Version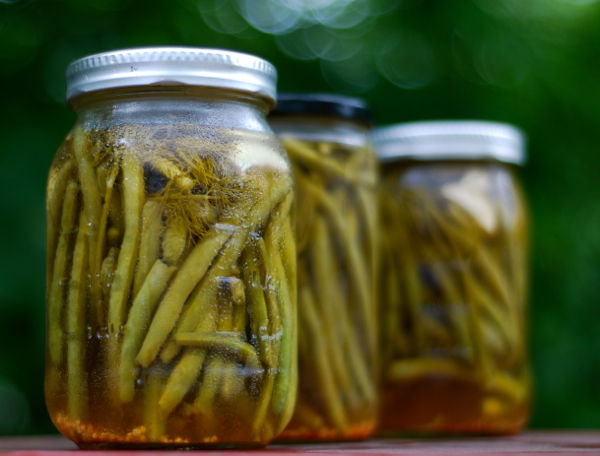 As long as Jeff and I have been married I've heard about his mom's legendary dilly beans. I've never perfected the art of canning, as she has, so I've never attempted making them. Until I came across a recipe in an old magazine for refrigerator dilly beans. Oh my gosh. Could it be? Is it possible they taste as delicious as the old fashioned canned ones? There was only one way to find out. I got a ton of fresh green beans and got to work.
When I was done making them I thought, "That was a little too easy. I bet they won't be as good."
We just opened our first jar this evening, and I'm happy to report, the hubby gave them an A+.
makes 4 quarts:
2 bunches fresh dill
4 large garlic cloves, peeled and smashed
2 teaspoons yellow mustard seeds
2 teaspoons dill seeds
1/2 teaspoon cayenne pepper
2 lb. fresh green beans, ends trimmed
5 cups apple cider vinegar
5 cups water
3 Tablespoons kosher salt
1/3 cup sugar
Place 4 quart-size canning jars and their lids in a pot of boiling water. Heat for 1 minute. Lift out. Drain. Place jars on a clean dish towel on the counter. Divide the fresh dill , garlic, mustard seeds, dill seeds, cayenne pepper, and fresh green beans between the 4 jars, packing the beans lengthwise.
In a medium saucepan, combine the vinegar, water, salt, and sugar. Bring to a boil over medium-high heat. Stir until salt and sugar are completely dissolved. Pour boiling liquid over the beans. Place lids on jars. Cool on wire rack. Refrigerate two to three days before serving.
Enjoy!
~Melissa
You may enjoy these related posts: