Print Friendly Version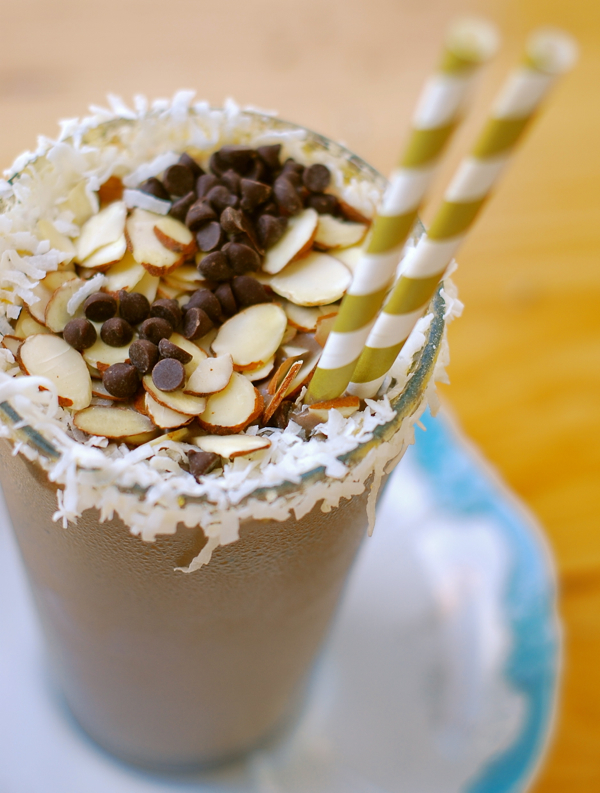 In lieu of ice cream… perhaps you'd like something a bit more healthy? As much as I love a good ice cream cone in the summer, 3 or 4 (or 6) a week is too much. Too much of the wrong sort of fat and sugar for sure. That's why, when the craving strikes, I usually make a smoothie. They're satisfying, and healthy. They're not exactly low in calories, but I just eat a little less dinner if I know I'm going to make one of these chocolaty treats.
I've always loved Mounds and Almond Joy candy bars. As I was making a healthy version of the candy a couple weeks ago, it got me thinking…
I bet I could make an Almond Joy smoothie! The combination of chocolate and creamy coconut is a match made in heaven.
for 2 smoothies:
1/2 cup unsweetened vanilla almond milk
1/2 cup coconut cream (we use Trader Joe's)
1 large, frozen, ripe banana
2 heaping Tablespoons almond butter (or peanut butter)
1 heaping Tablepoon unsweetned cocoa powder
1/2 teaspoon pure coconut extract
3 Tablespoons honey, divided
a large handful of ice
sliced almonds
mini chocolate chips
unsweetened shredded coconut
Place 1 of the Tablespoons of honey on a small plate. Dip edges of two glasses in honey so the rims are completely covered. Place some of the shredded coconut on another plate and dip the honeyed glasses into the coconut shreds. This makes a pretty garnish for your smoothies. You can definitely omit this step if you're in a hurry.
In the bowl of a blender, combine: almond milk, coconut cream, banana, almond butter, cocoa powder, coconut extract, the rest of the honey, and the ice. Mix until frothy. Add a little more almond milk if the smoothies seem too thick. Blend again. Pour into glasses. Garnish tops of smoothies with some of the almonds and chocolate chips. Serve each with a couple cute straws.
Enjoy!
~Melissa
You may enjoy these related posts: