Print Friendly Version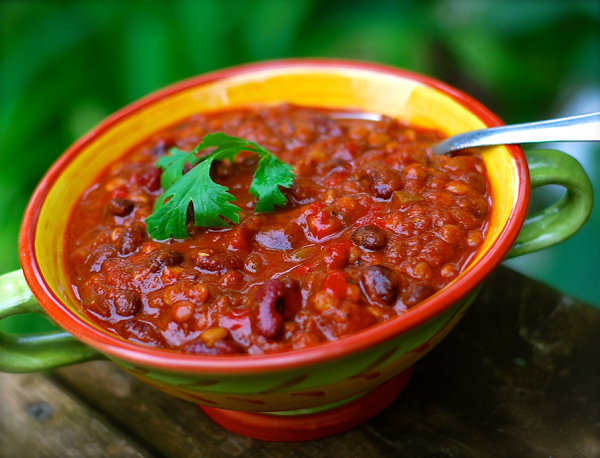 It's been snowing in other parts of Minnesota already. What? It best not show it's face in Red Wing. We haven't had nearly enough Autumn yet. I still need to go to the apple orchard at least three more times. And then there's Halloween to think about. Go away snow! Come back on Christmas. We don't want you yet.
It is chilly out there though. You know what that means. Soup, stew, chili, and bread! Such a cozy dinner on a cold day. Make up a big pot of this delicious three bean chili and a pan of cornbread to enjoy by the fireplace. Mmmmmm!
2 Tablespoons olive oil
1 large yellow or white onion, chopped fine
1 green bell pepper (or any other color you may have on hand), chopped
2 teaspoons chipotle powder
2 teaspoons salt
6 cloves garlic, minced
1/4 cup mild chili powder
1 Tablespoon dried oregano
2 teaspoons ground cumin
2 teaspoons freshly ground black pepper
1 Tablespoon unsweetened cocoa powder
1/8 teaspoons ground cloves
4 to 6 cups low sodium vegetable stock, as needed
1 cup brown lentils
1 (28 oz.) can crushed tomatoes
1 (15 oz.) can petite diced tomatoes
1/4 cup tomato paste
1 (15 oz.) can kidney beans, rinsed and drained
1 (15 oz.) can black beans, rinsed and drained
2 Tablespoons fresh lime or lemon juice
1/4 cup brown sugar
Place a heavy-bottomed soup pot over medium-high heat. Add the oil, and saute the onion, bell pepper, and salt for 7 minutes, or until onion is translucent.
Add chipotle, garlic, chili powder, oregano, cumin, pepper, cocoa powder, and cloves and cook for 2 minutes, stirring constantly.
Add 4 cups of the stock and scrape the bottom of the pot to deglaze. Add lentils and bring to boil. Cover and turn the heat down a bit so the stock is gently boiling. Allow to boil for 20 to 25 minutes, stirring occasionally. Cook until lentils are still firm, but not crunchy.
Add tomatoes, tomato paste, and beans. Cover and turn heat to a gentle simmer. Cook an additional 30 minutes, stirring occasionally. Add more stock if the chili seems to be getting too thick. (1 to 2 more cups if needed.)
Add the lime juice and brown sugar. Taste and adjust seasonings. Remove from heat and allow to rest for 15 minutes prior to serving so the flavors can marry.
Enjoy with your favorite cornbread!
~Melissa
You may enjoy these related posts: