Print Friendly Version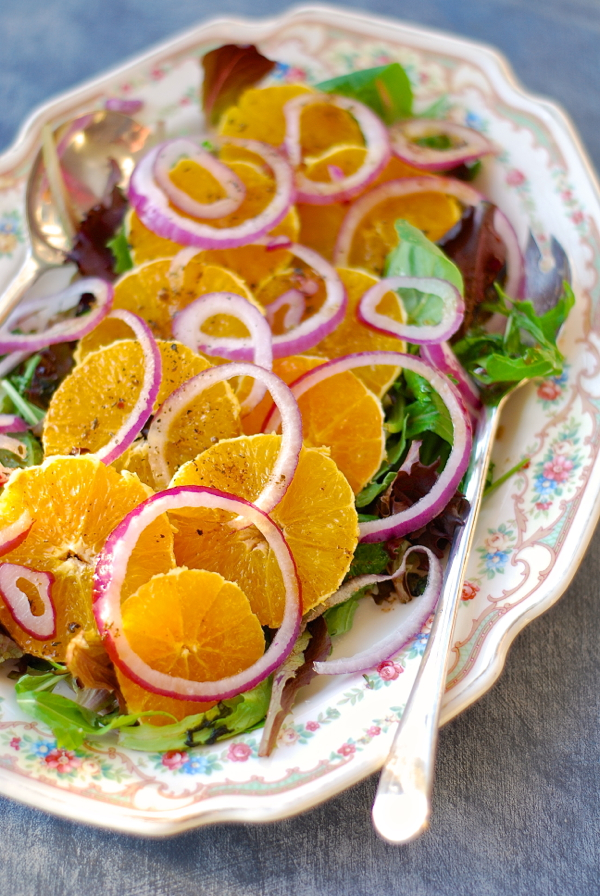 The orange is the 'golden apple' spoken of in Greek mythology. The golden apple was the fruit that Juno gave to Jupiter on the day of their celestial wedding.
Good afternoon friends! I've been out and about today, enjoying the beautiful sunshine (can you believe it's almost 70 degrees out there today? Unseasonably warm for November in Minnesota.) I did some writing and cooking today too. This evening I'm finishing my grandgirl Chloe's baby blanket and starting a floor doiley rug. The pattern looks kinda' hard, but I feel up for the challenge.
Anyway, speaking of sunshine…this salad reminds me of sunshine on a plate. So bright and cheerful. I've made it using some whole, canned cranberries, white balsamic vinegar and extra virgin olive oil as a dressing…other times I've drizzled poppyseed dressing over the top and sprinkled pomegranate seeds for a pretty, tasty garnish. This time I just used homemade balasmic vinaigrette, a little coarse sea salt, freshly ground black pepper, and orange zest… it still got gobbled up! Such an elegant, simple salad.
On a pretty platter:
Spread a generous bed of mixed greens, arugula or baby spinach in an even layer
 two or three Valencia, Cara Cara, Blood or Navel oranges, peeled and sliced over the greens
a few slices thinly sliced purple onion over the oranges
a drizzle of homemade balasamic vinaigrette (recipe below)
coarse sea salt
freshly ground black pepper (we love Telicherry)
orange zest
for the homemade balsamic vinaigrette:
1/2 cup extra virgin olive oil
1/3 cup balsamic vinegar
3 Tablespoons honey, warmed
Combine all in a canning jar or cruet. Shake vigerously and drizzle over salads. Also lovely as a marinade for chicken.
Enjoy!
~Melissa
You may enjoy these related posts: