Print Friendly Version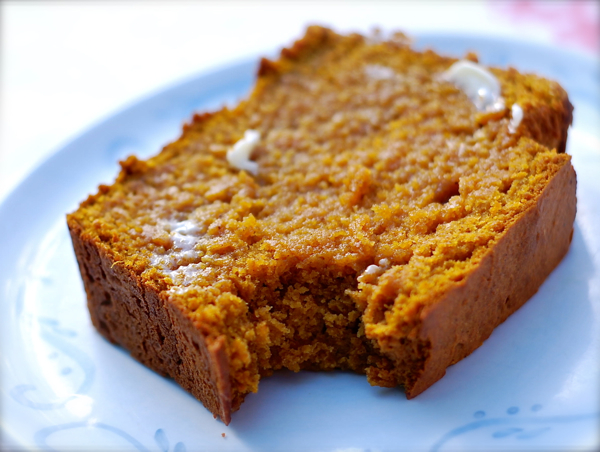 I recently developed a pumpkin bread recipe that is very similar to this called Vanilla Pudding Pumpkin Bread. It was so delicious and so well received, that I decided to play with the ingredients a bit and come up with another blog worthy recipe. Folks, we have a winner!
~ preheat oven to 350 degrees F. ~
1 and 3/4 cup all purpose flour
1 (3.4 oz.) pkg instant butterscotch pudding (dry powder, unprepared)
1 Tablespoon baking powder
1 teaspoon baking soda
2 teaspoons pumpkin pie spice
1 teaspoon cinnamon
1/4 teaspoon nutmeg
1/4 teaspoon ginger
1/2 cup butter, melted in skillet until browned and fragrant
1 cup brown sugar
1 (15 oz.) can pure pumpkin puree
2 large eggs, lightly beaten
Butter an 8×4 inch loaf pan. In a large bowl, combine: flour, pudding mix, baking powder, baking soda and spices. Whisk to incorporate. Set aside.
In another bowl, combine: butter that has been melted in a skillet over medium heat and stirred occasionally until browned and fragrant. (Be careful not to burn.), brown sugar, pumpkin puree and eggs. Stir until just combined.
Add wet ingredients to dry ingredients and mix until just combined. Pour into prepared pan. Bake 60 to 65 minutes in preheated oven. (You'll know it's done when the top is set and a toothpick inserted into the center comes out with a few moist crumbs on it.) Cool in pan for 10 minutes before transferring to a rack to cool completely. Once mostly cool, cut into slices and serve.
Enjoy!
~Melissa
You may enjoy these related posts: