Print Friendly Version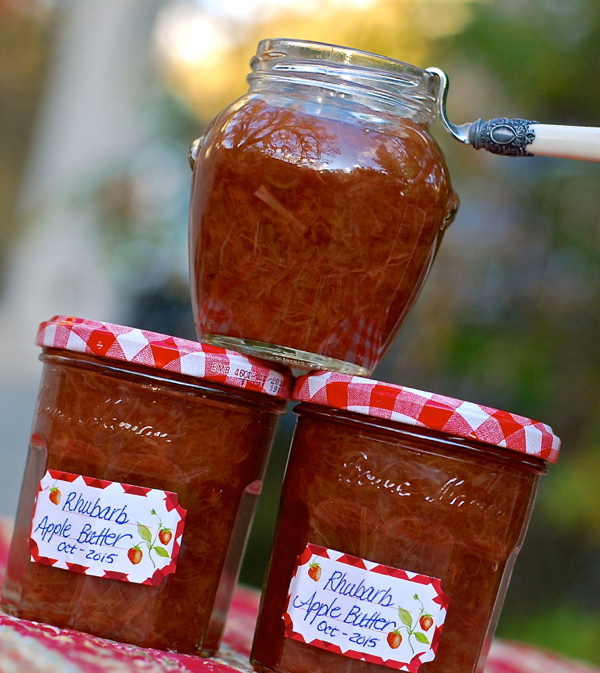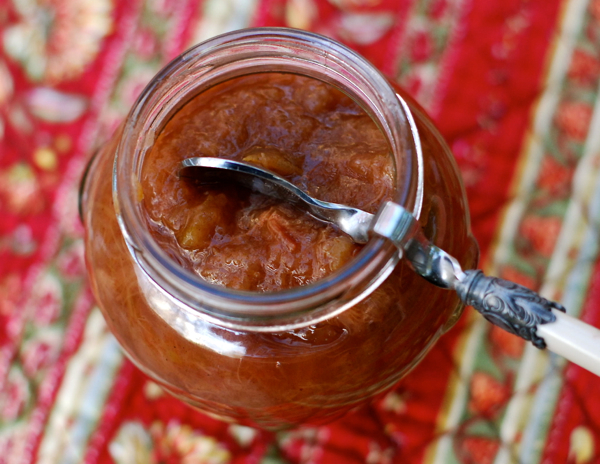 My darling neighbor, Carol, has a ginormous rhubarb patch and every year she brings me a ton! This year I made dumplings, pie, sauce, custard cake and cordial… and I still had 2 giant Ziploc freezer bags FULL. I put the rest in the freezer and sort of forgot about it. Then, a couple days ago, I was perusing the pages of one of my favorite, time worn, vintage cookbooks and came across a recipe for rhubarb butter. The recipe is a lot like my recipe for rhubarb sauce, and it got me thinking… Why not combine rhubarb and apples and make an autumn-y treat? I tweaked my recipe for slow cooker apple butter, and this is the gem I came up with. Oh my. It's goooood. Easy too. Win, win. Enjoy it on toast, pancakes, waffles, scones, or even as a topping for grilled chicken or pork. YUM!
Don't worry about peeling the apples. The pectin in the peels help to thicken the apple rhubarb butter, and they completely dissolve during the long, slow cooking process.
6 cups washed, chopped rhubarb (fresh or frozen)
6 cups apples, cored, unpeeled and chopped (I used a combination of sweet and tart)
2 teaspoons pure vanilla extract
1 and 1/2 cups sugar
2 teaspoons apple pie spice OR cinnamon
2/3 cup apple cider OR water
Place all ingredients in the crock of a 7 to 8 quart Crock Pot/slow cooker. Stir well. Cover and cook on low for 6 to 7 hours, or until fruit is completely soft and mashable.
While the apple rhubarb butter is still hot, whisk 1 Tablespoon cornstarch with 2 Tablespoons cold water until completely dissolved. Stir this mixture into the butter until evenly combined.
Can as you would any jam, jelly or preserves… or, wait for it to cool completely and just pack into jars and refrigerate for up to two weeks. Freeze any that you won't be using within that amount of time.
Enjoy!
~Melissa
You may enjoy these related posts: