Print Friendly Version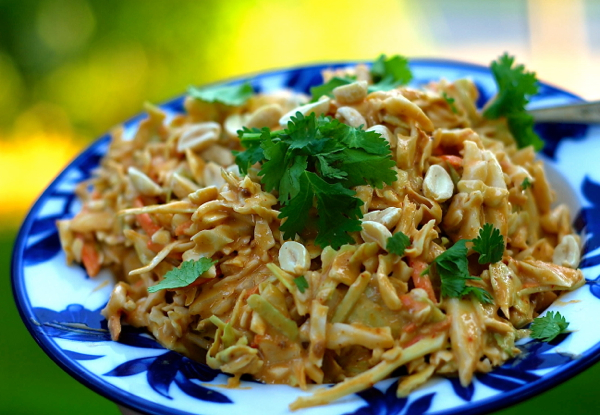 We grilled some yummy, simple, herbed chicken breasts last night and since my daughter Andrea was visiting I decided to create a slaw featuring her favorite, creamy peanut sauce as an accompaniment. Oh WOW! I can't believe I never thought to do this before. A match made in heaven!
for the salad:
~ serves 6 to 8 ~
14 oz. shredded coleslaw mix
1 cup shredded carrots
1/4 cup finely chopped onion
1 large clove garlic, minced
Mix all salad ingredients in a large mixing bowl. Toss to combine.
for the spicy, creamy, peanut sauce:
1/4 cup peanut butter (creamy or crunchy)
1/3 cup real mayonnaise
3 Tablespoons sriracha hot sauce
2 Tablespoons sweet, smoky BBQ sauce
1 Tablespoon honey
3 Tablespoons water
2 Tablespoons rice vinegar
1 teaspoon onion powder
1 teaspoon garlic powder
Mix all sauce ingredients in a medium mixing bowl. Stir with a wire whisk until smooth. Pour over slaw ingredients. Mix well.
Divide between 6 to 8  salad bowls and garnish with peanuts and chopped cilantro.
Enjoy!
~Melissa
You may enjoy these related posts: