Print Friendly Version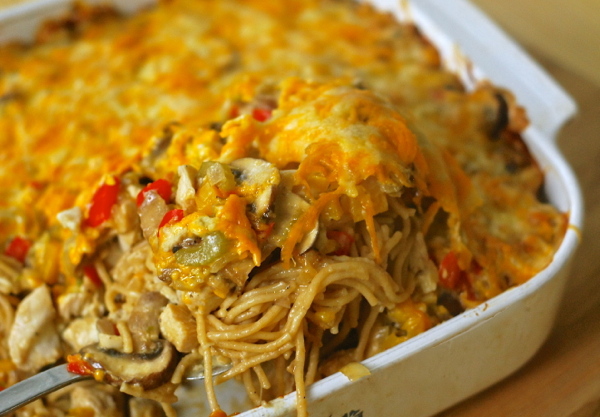 It's a bit rainy and cold in the Mississippi river valley this week, so I've been making warm comfort food. This dish is a tried and true favorite. I make it with homemade cream of mushroom soup (which I provide a link for below), but you can certainly use the canned stuff if you're in a hurry. Another way to make this dish come together fast is to use a deli rotisserie chicken from the grocery store. This dish is hearty and filling. Serve it with your favorite green salad.
serves 8
~ preheat oven to 350 degrees F. ~
4 lb. cooked, cubed, boneless, skinless chicken breasts OR the meat from a 4 lb. deli rotisserie chicken, all skin and bones removed
4 Tablespoons butter
2 large cloves garlic, minced
1 sweet bell pepper, stem and seeds removed, chopped
1 large onion, chopped
2 stalks celery, chopped
8 oz. fresh baby bella mushrooms, washed well and sliced
1/4 cup white wine
3 cups homemade cream of mushroom soup OR 2 cans condensed cream of mushroom soup
12 oz. vermicelli or spaghetti noodles (I used Barilla Protein Plus)
2 teaspoons freshly ground black pepper
8 oz. grated cheddar jack cheese
grated Parmesan cheese, for serving
Lightly butter a 9×13 glass baking dish.
Cook noodles according to package directions for al dente pasta. Drain very well. Place in an even layer in the bottom of prepared baking dish. Top with an even layer of the cooked chicken.
Saute garlic, bell pepper, onion and celery in 3 Tablespoons of the butter until tender and translucent. Add cream soup and cook until heated through. Place in an even layer over the chicken. Heat remaining Tablespoon of butter in skillet. Saute mushrooms until they have reabsorbed their juices. Add white wine and stir to deglaze pan. Pour mushrooms and all pan drippings over the vegetable/soup layer. Sprinkle the black pepper over everything and then  sprinkle the grated cheese over the top.
Bake in preheated oven for 40 minutes or until cheese is melted and bubbling and casserole is completely hot all the way through. Divide into 8 equal portions and serve with grated Parmesan cheese sprinkled over the top. Salt and pepper, to taste.
Enjoy!
~Melissa
You may enjoy these related posts: