Print Friendly Version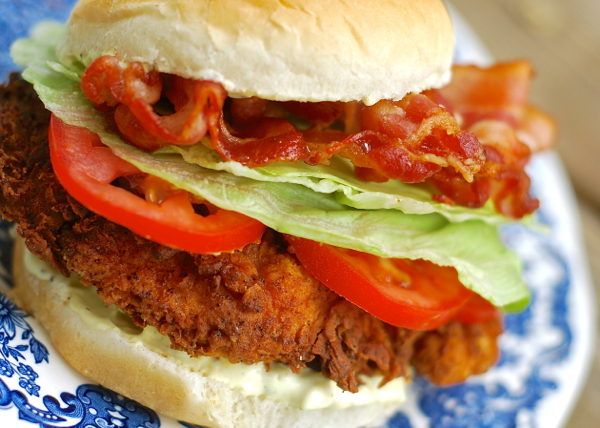 Yesterday I was craving a super crunchy chicken sandwich. Like the kind you can get at KFC and Chick-Fil-A. I'm not crazy about the weird oil that most fast food restaurants cook with (mostly vegetable oil which is actually evil soybean oil. Not kidding. Look at the ingredients. 100% soybean oil. I was shocked!) I had to make the sammies myself. Mostly because I don't like mystery ingredients, and party because we don't have a KFC or a Chick-Fil-A in Red Wing. I did use white hamburger buns for this. Don't judge. 😉
I have a little secret when it comes to making chicken SUPER crunchy. I'm going to share it with you. This post is the first time I've ever revealed it. It's so simple, but once you know it, you'll never go back to the old way of dredging chicken. Ready?
Yield: 2 big chicken sandwiches
for the seasoning:
1 teaspoon sea salt
1 teaspoon freshly ground black pepper
1 teaspoon regular or smoked paprika
2 teaspoons onion powder
1 teaspoon garlic powder
1 teaspoon dry sage
1/4 teaspoon cayenne pepper
Mix all spice ingredients together in a small bowl. Divide in half.
for the chicken:
2 (10 oz.) boneless, skinless chicken breasts
1 and 3/4 cup all purpose flour
1 Tablespoon baking powder
4 Tablespoons water
2 large egg whites, lightly beaten
peanut oil (for frying)
Place chicken breasts in a large Ziploc bag. Remove as much air as possible from bag and seal. Pound to 1/2 inch thickness using a meat pounder OR the side of a hammer head. Once flat, remove from bag and pat chicken dry with paper towels. Rub both sides of each breast with half of the seasoning mixture.
In a large mixing bowl, combine: flour, baking powder, water and the other half of the seasoning mixture. Use your fingers to work the ingredients together. It will be raggedy.
Working with one chicken breast at a time, dip chicken breast into the egg whites and then dredge with the flour mixture, pressing it onto the breast so it sticks to the chicken. Transfer each breast to a plate and refrigerate for one hour.
Set a wire rack on a rimmed baking sheet.
Once the hour is up, add some peanut oil to a heavy 10 to 12 inch skillet. The oil should be approximately 3/4 inch deep. Heat over medium-high flame until the oil reaches 375 degrees F. Remove chicken from refrigerator and fry each breast individually, 2 to 3 minutes per side, or until deep golden brown and interior temperature reaches 170 degrees F. and is no longer pink.
Transfer fried chicken to the rack on the baking sheet to rest while you prepare your sammy accoutrements.
for the sauce:
1/3 cup mayonnaise
6 baby dill pickles, coarse chopped
1 teaspoon brine from dill pickle jar
1 teaspoon sugar
1 Tablespoon yellow mustard
freshly ground pepper, to taste
Mix all sauce ingredients together in a small bowl. Refrigerate until ready to use.
putting your sandwiches together:
2 hamburger buns
6 pieces of bacon, fried until crispy
iceberg or romaine lettuce leaves, washed and patted dry
1 Roma tomato, thinly sliced
2 slices sweet onion (such as Vidalia or Maui) optional
Spread sauce on hamburger buns. Top bottom halves of buns with the fried chicken breasts followed by the tomato slices, lettuce, bacon and onion (if using.) Top with bun tops and serve immediately.
Enjoy!
~Melissa
You may enjoy these related posts: