Print Friendly Version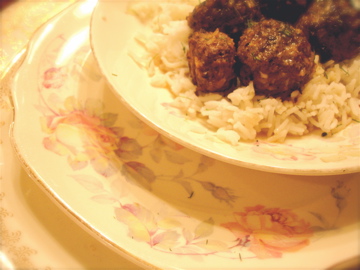 photograph by Melissa Placzek
~Beef & Basmati Dumplings~
These Greek meat and rice dumplings are moist and flavorful, and surprisingly low in fat when you use extra lean meats. I have made them with fattier meats before, but because of the way these little dumplings are cooked, the extra fat really isn't necessary. This way you can eat healthy and still feel like you're indulging 😉
For the dumplings:
1 lb extra lean ground beef
1 lb. lean ground pork
3 Tablespoons chopped, fresh dill
3 Tablespoons chopped, fresh parsley
1 egg
1/2 cup basmati rice, cooked according to package
1/2 onion, chopped fine
1 clove garlic, minced
1/2 cup milk
1 teaspoon salt
1/4 cup olive oil
5 cups hot water
For the sauce:
1 egg
juice of 2 lemons
3 Tablespoons chopped, fresh dill
1/2 teaspoon nutmeg
Combine meats, dill, parsley, egg, cooked rice, onion and garlic in a mixing bowl with milk and salt. Mix with your hands until all ingredients and completely incorporated. Shape into walnut-sized dumplings.
Heat oil in a nonstick skillet. Fry in batches over medium-high heat, turning gently until they are lightly browned all over.
Transfer to a Dutch oven. Gently pour the hot water over and bring to a gentle boil. Lower flame under the pot so the water is barely simmering. Cover with lid, and cook for an hour. Remove from heat.
For the sauce, beat egg in a bowl and whisk in lemon juice and a little salt and pepper. Add a ladle-ful of the pan juices to the egg mixture and quickly whisk to incorporate. Add a couple more ladle-fuls of the pan juices. Mix. Add the dill and nutmeg. Mix. Pour lemon sauce over dumplings in pan, quickly combining so the eggs don't harden and scramble. Cover pan and allow to sit for a few minutes. Serve over rice, salt and pepper to taste.
Enjoy!
~Melissa
You may enjoy these related posts: