Print Friendly Version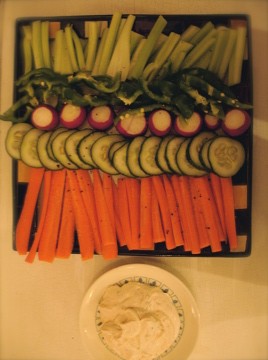 A healthy, delicious appetizer to serve at your next gathering. Just arrange your favorite vegetables on a pretty plate and serve with this flavorful garlic aioli!
~Oven Roasted Garlic Aioli~
3-5 oven-roasted garlic cloves
2 large egg yolks
1 tablespoon fresh squeezed lemon juice
1 teaspoon Dijon mustard
1 cup olive oil
1 tablespoon fresh flat leaf parsley, finely chopped
Place the garlic cloves in a food processor. Add the yolks, lemon juice, and Dijon mustard and blend until smooth and fluffy, about 1 minute.
With the machine running, slowly add the oil in a thin steady stream until the aïoli is thick and creamy. If the mixture is too thick, add a little water to thin it to the desired consistency.
Stir in the parsley. Season the aïoli to taste with salt and pepper.
Serve with crudite (also lovely with fries and seafood.)
Enjoy!
~Melissa
You may enjoy these related posts: