Print Friendly Version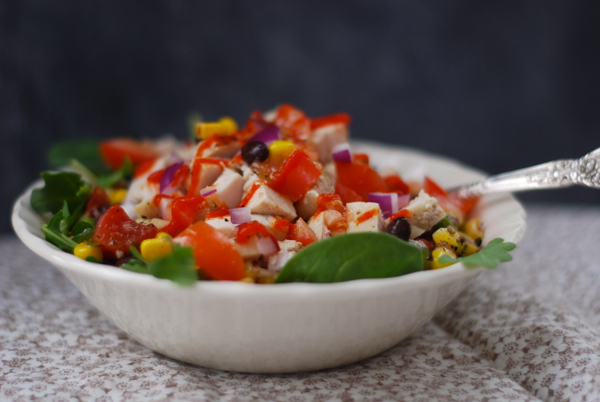 The Good Earth Restaurant is a Twin Cities restaurant known for their delicious vegetarian offerings. Years ago they gave away recipe cards with select menu items so their customers could try gourmet vegetarian cooking at home using an authentic Good Earth Recipe. Here's my favorite salad to serve in the winter…aren't you glad I saved the recipe?
~Good Earth Winter Bean Salad~
serves 4

3/4 cup black beans, dry
3/4 cup black-eyed peas, dry
1 Tablespoon extra virgin olive oil
1/4 cup tamari sauce
1/4 cup + 2 Tablespoons lime juice
1 garlic clove, minced
1 teaspoon cumin
1/4 cup cilantro, chopped
2 red bell peppers, diced
1 small red onion, chopped
1 and 1/2 cups fresh or frozen corn (cooked/thawed)
1 and 1/2 Tablespoons minced jalapeno or serrano peppers
To prepare:
Soak black beans and black-eyed peas in water overnight. Soak in separate containers. Gently simmer (still separately) until tender, about 1 hour. Whisk the olive oil, tamari, lime juice, garlic, cumin and cilantro together. Cool the beans slightly. Drain the beans well. Combine and mix with the dressing while still warm. Cover and chill completely.
To serve:
Place a bed of chopped, fresh spinach and tomatoes on individual serving plates. Top each with about 1 and 1/2 cups of the winter bean salad. Then top with the cooked corn, a little purple onion, red pepper, jalapeno and a drizzle of your favorite hot sauce.
Notes:
I like to add a little curry powder to the marinade ingredients. I've also used canned beans for this recipe which is still pretty good, but not quite the same. This time I added cooked chicken breast chunks to our salads for an extra boost of protein, but you certainly can serve it without the chicken for a satisfying vegetarian meal!
Enjoy!
~Melissa
You may enjoy these related posts: