Print Friendly Version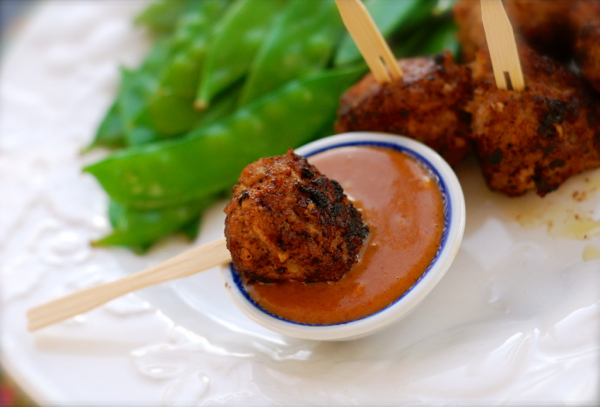 If you're looking for a healthy alternative to all the junk food being served for Super Bowl Sunday, you've come to the right place. You and your family can enjoy these yummy, healthy meatballs guilt free. We serve them alongside oven roasted or steamed veggies and offer homemade hoisin, wasabi mayonnaise, sweet & sour sauce, tzatziki, and spicy feta dip for dunking.
~ makes 4 dozen meatballs (serves 8 people ~ 6 meatballs each) ~

2 lb. ground turkey
1 teaspoon sea salt
1 teaspoon freshly ground black pepper
2 large garlic cloves, minced
1 Tablespoon freshly grated ginger
2 Tablespoons ponzu or lite soy sauce
1 Tablespoon pure maple syrup or raw honey
1 teaspoon onion powder
1/4 cup light olive oil
In a large mixing bowl, combine the turkey, salt, pepper, garlic, ginger, ponzu, maple syrup, and onion powder. Mix well, using your hands, until thoroughly combined and all ingredients are evenly incorporated, Form into (approximately) 48 meatballs. Heat the oil in 2 heavy skillets and pan fry the meatballs in batches until cooked through.
Enjoy!
~Melissa
You may enjoy these related posts: