Print Friendly Version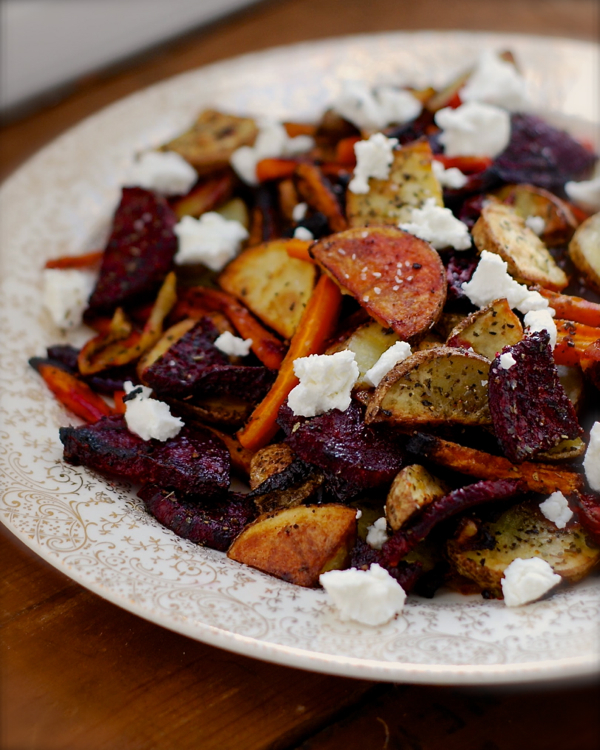 What a revelation! Lightly seasoned, oven roasted root veggies with soft chevre sprinkled over the top. This healthy side dish tasted amazing and I'm making it again tonight. If you've never thought to pair these two things together before, you're in for a treat. Make more than you think you'll eat. The veggies shrink considerably during the roasting process. I made two big cookie sheets and the three of us demolished them both.
~ preheat oven to 425 degrees F. ~
2 large beets, peeled, quartered and sliced 1/4 inch thick
3 medium potatoes, unpeeled, quartered and sliced 1/4 inch thick
4 large carrots, peeled and cut into short sticks
1 medium onion, peeled, cut in half and sliced thick
1/4 cup extra virgin olive oil
1 to 2 teaspoons sea salt
freshly ground black pepper
dry Italian seasoning or pizza seasoning
6 oz. chevre (soft, montrachet goat cheese)
Place all veggies and olive oil in a large mixing bowl. Toss to coat. Spread out, in one layer, onto two large baking sheets. Sprinkle the salt, pepper and Italian seasoning evenly over veggies. Place in oven (a little pizza oven works well for this.) Bake for 20 to 30 minutes or just until veggies are tender and beginning to brown and caramelize. Watch closely so they don't burn. Transfer to a serving platter. Crumble the goat cheese over the top and serve immediately.
Enjoy!
~Melissa
You may enjoy these related posts: