Print Friendly Version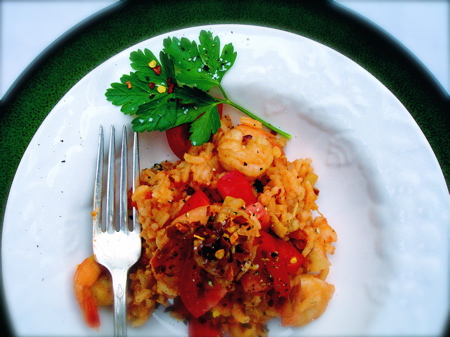 ~shrimp perloo~
Perloo is the word they use for pilaf in the Carolina low country where this dish is famous and prepared as often as Minnesotans make hot dish and fruity jello molds. This is my version of the dish. It's easy, tasty and delicious.
1 lb thawed large, raw shrimp shelled deveined, tails in tact
chicken or seafood stock
4 strips bacon
2 cloves fresh garlic, minced
1 large onion, chopped fine
2 stalks celery, chopped
15 oz. can petite diced tomatoes
1/2 cup tomato sauce
2 cups dry jasmine rice
1 teaspoon dried red pepper flakes
3 Tablespoons butter
1 Tablespoon Sriracha hot sauce
3 Tablespoons minced fresh parsley
In a large stock pot, prepare rice according to package directions using chicken or seafood stock in place of water. When the rice is done, fluff with a fork, cover and set aside. Fry the bacon. Remove to a plate to cool. Reserve the bacon drippings. Saute the chopped onion and celery in the drippings until tender and translucent. Add the onion and celery to the rice along with the diced tomatoes, tomato sauce, Sriracha and butter. Stir to combine, cover and set aside. In the same skillet, saute the shrimp and garlic until shrimp is cooked through and pink. Add the shrimp to the rice pot. Return pot to stove and heat over medium flame until warmed through. Add a little more stock if needed. Plate the perloo in shallow bowls and garnish with the fresh parsley and some crumbled bacon. Salt and pepper to taste.
Enjoy!
~Melissa
You may enjoy these related posts: