Print Friendly Version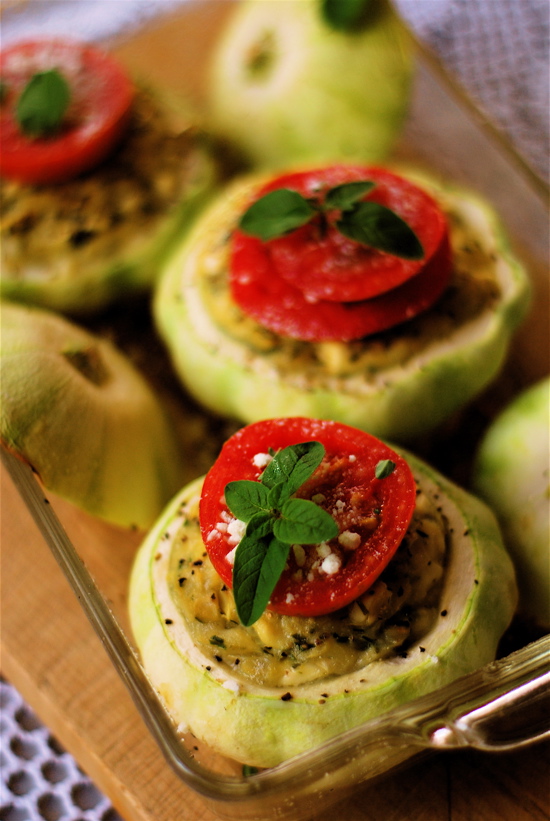 I'm back from another jaunt to the farmer's market. Such a beautiful selection of produce these days. Can't get enough of the heirloom tomatoes, and whenever I come across pattypan squash it's feels like striking gold. These tender little gems are definitely the creme de la creme of summer squash. They can be prepared so many different ways, but I like to stuff them! The mixture of ingredients I use behaves a lot like a souffle. Light, cheesy and delicious. An adorable summer side dish or light lunch.
3 pattypans (a little bigger than the palm of your hand)
2 Tablespoons butter
2 large cloves garlic, minced
1/4 cup finely chopped onion
1 large egg
2 Tablespoons flour
2 oz. feta cheese, crumbled
salt and pepper
about 1/4 cup chopped, fresh herbs (basil, chives, oregano, thyme)
one small heirloom tomato
freshly grated Parmesan cheese
Grease a small, glass cake pan. Carefully remove tops of pattypans and set them aside. Gently scoop out the insides, leaving a thin wall. Chop up the "scoopings" and mix with the finely chopped onion and minced garlic. Saute in the butter until soft. In a medium mixing bowl, beat egg and add the flour, feta and squash mixture. Stuff pattypans. Place them in the cake pan with the tops alongside. Sprinkle a little salt and pepper over the tops of the pattypans. Bake for 25 minutes. Check for moisture. If they look watery, gently tip the moisture out. Continue to bake for an additional 25 minutes or until golden and slightly puffed. Garnish each with a slice of fresh, heirloom tomato and a sprig of fresh oregano, thyme or basil.
Enjoy!
~Melissa
You may enjoy these related posts: