Print Friendly Version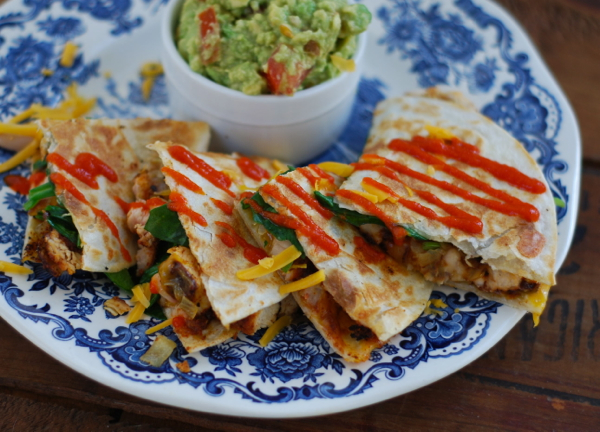 I love how versatile quesadilla recipes can be. Truly a "use what you have" sort of entree, and it's a great way to use up leftover, grilled chicken. Flour or corn tortillas are both wonderful choices for these, and Trader Joe's carries a spinach tortilla that I absolutely adore. If you decide to use canned beans for this recipe, be sure to rinse and drain them very well before adding them to your quesadilla.
for one large quesadilla:
1 Tablespoon olive oil
2 large (burrito-size) corn or flour tortillas
1/2 cup shredded cheddar, monterey jack or pepper jack cheese
1/3 cup grilled chicken breast, cut into smallish chunks
3 Tablespoons fried onion and garlic
a sprinkle of cooked white, black or red beans (I used canned)
a handful of baby spinach or cilantro
guacamole, salsa, sour cream/plain greek yogurt and Sriracha for topping
Rub the tortillas with olive oil and place the rest of the oil in a skillet so it covers the bottom of the pan. Heat skillet over medium flame. Place one of the tortillas in the skillet. Working quickly, layer the cheese, chicken, onion, garlic, beans and spinach over the top of the tortilla. Top with the other tortilla and gently press it down to compact the fillings a bit. When you can see that the bottom tortilla is golden brown and the cheese is melted, carefully flip the quesadilla. Cook until the second tortilla is browned too. Remove to a cutting board. Using a pizza cutter, cut quesadilla into wedges. Serve with suggested toppings or your favorites.
Enjoy!
~Melissa
You may enjoy these related posts: