Print Friendly Version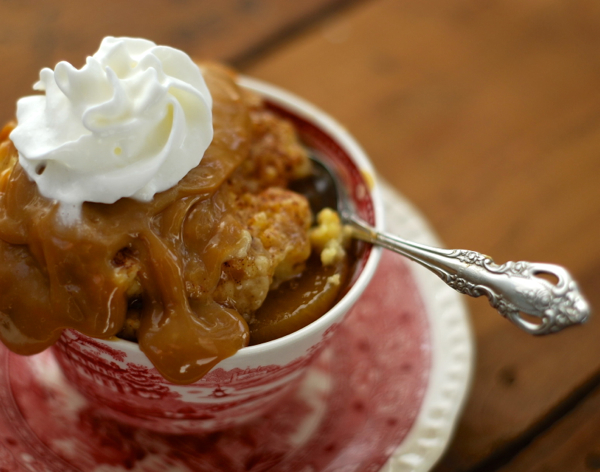 Such pretty, crisp, sunny autumn days we're experiencing here in the Mississippi river valley. Saturday's apple orchard jaunt, and yesterdays dinner on the patio of a favorite restaurant, were perfect.
I've been doing even MORE crock pot cooking and am actually done for awhile now. This apple cobbler with salted caramel was a wonderfully sweet and easy treat. YUMMY!
A couple things you'll want to keep in mind when making this recipe. The caramel takes twice as long to make as the cobbler. If that doesn't work for you, you can make THIS BUTTER CARAMEL RECIPE instead (it's fast and easy and SO good.) If you decide to make the sweetened condensed milk caramel (dulce de leche) as indicated below, you'll want to start it in the morning, and then start your cobbler 4 hours after that.
Something else to keep in mind… only make as much cobbler as your family and friends will be eating the same day. This cobbler is okay the next day, but not nearly as good as it is fresh. For 4 people, just cut the ingredients in half and cook in a 4 quart Crock Pot. For 8 to 10 people, make the recipe exactly as it's listed here and make it in a 6 or 7 quart Crock Pot. Make the caramel the same way for both scenarios…you can always use it as an ice cream or homemade latte topping if you have extra.
for the salted caramel (dulce de leche) :
14 oz. can of sweetened condensed milk (we like Borden brand)
1 to 2 teaspoons sea salt
Open the can and transfer the sweetened condensed milk to a short, wide mouthed canning jar. Cover tightly and place in a small (2 to 3 quart) Crock Pot. Pour water into Crock Pot around the jar until the water level at least reaches the milk line in the jar. Cover the Crock Pot and turn on the "LOW" setting. Check the color of your caramel after 6 hours. It's done as soon as the color changes to a light gold color, and could be done anywhere between 6 to 8 hours. Watch the water line from time to time and add more if needed. When the caramel is done,  carefully remove from the hot water in the Crock Pot and set on a trivet on your counter to cool. When the jar is cool enough to handle, carefully remove the lid and stir, adding 1 to 2 teaspoons of salt (to taste.) Cover and refrigerate until ready to use. The caramel will thicken considerably upon cooling…just put a little in a ramekin and heat it for a few seconds in the microwave to thin it out enough for topping your apple cobbler or other desserts/coffee drinks.
for the apple cobbler:
3 (20 oz.) cans/jars whole fruit, chunky apple pie filling (your favorite brand or homemade)
1 (15.25 oz) box white or yellow cake mix (we like Betty Crocker Super Moist Butter Recipe Yellow)
1 stick unsalted butter, melted
1 teaspoon cinnamon for sprinkling
whipped cream or vanilla ice cream, optional
Spray the inside of your 7 quart Crock Pot with non-stick cooking spray. Put all of the pie filling in an even layer at the bottom of the Crock. Sprinkle the cake mix over the top (don't mix it in.) Drizzle the melted butter over that. Sprinkle the cinnamon over the top. Cover Crock Pot, turn it on the "HIGH" setting, and cook for 3 hours (Crock Pot temperatures vary, so check the cobbler after 2 hours.) When it's done, the crust on top of the apples should be completely set and the apples will be hot and bubbling around the crust. Cool a bit before serving and drizzling your salted caramel over. Serve with whipped cream or vanilla ice cream if you wish.
We served our cobbler in red transferware teacups and I think the presentation turned out so pretty…
Enjoy!
~Melissa
You may enjoy these related posts: