Print Friendly Version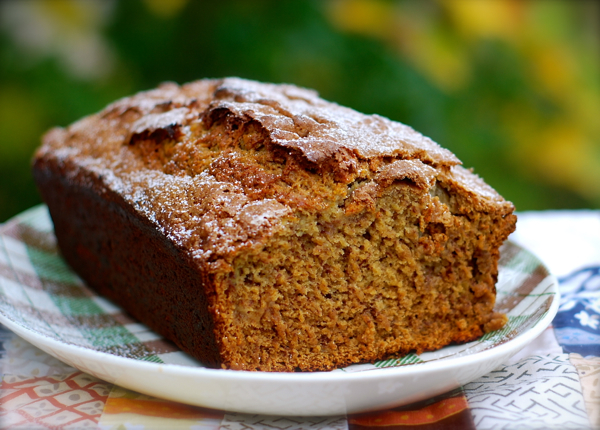 Everyone loves my Vanilla Pudding Pumpkin Bread so much, I decided to create a banana bread that features vanilla pudding too! We always have tons of bananas ripening on the kitchen counter, so any day is the perfect day to make banana bread.
PS… This is wonderful served with butter, jam, or peanut butter for an after school snack or treat for tea time.
~ preheat oven to 350 degrees F. ~
1 and 3/4 cup all purpose flour
3.4 oz. dry vanilla pudding mix (unprepared)
1 Tablespoon baking powder
1 teaspoon baking soda
2 and 1/2 teaspoons cinnamon, divided
1/2 teaspoon salt
1/2 cup butter OR vegetable oil, melted
3 large, ripe bananas, mashed well
2 large eggs, lightly beaten
1 cup + 1 Tablespoon sugar, divided
Oil an 8×4 inch loaf pan.
In a large mixing bowl, combine flour, dry vanilla pudding mix, baking powder, baking soda, 2 teaspoons of the cinnamon, and the salt. Mix well using a wire whisk. Set aside.
In another mixing bowl, combine the melted butter/oil, mashed bananas, eggs, and 1 cup of the sugar. Stir until just combined.
Add dry ingredients to wet ingredients and stir just until combined and everything is evenly moist.
Scrape into prepared loaf pan using a rubber spatula. Mix remaining 1/2 teaspoon cinnamon and remaining 1 Tablespoon of sugar. Sprinkle over top of bread batter.
Bake in preheated oven for 55 to 60 minutes, or just until a wooden skewer inserted into the center of the loaf comes out with a couple moist crumbs attached.
Cool in pan on wire rack for 10 minutes before turning out onto the rack to cool completely before cutting and serving.
Enjoy!
~Melissa
You may enjoy these related posts: