Print Friendly Version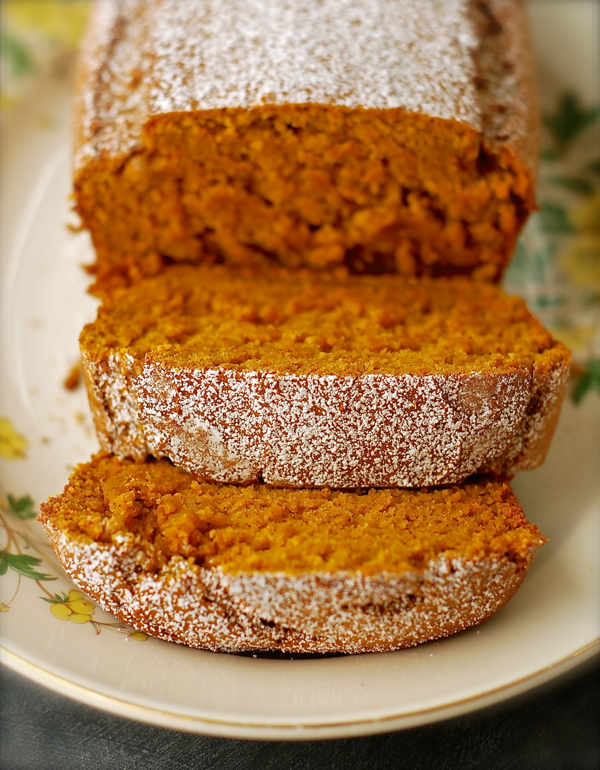 It's that time of year again, Friends! Pumpkin season! I have soooo many new, autumn recipes to share with all of you. This is the first of many, and it's a beaut. This is absolutely, hands down, the BEST pumpkin bread I've ever made. The addition of vanilla pudding makes it super moist with just a hint of vanilla. You could frost it with homemade cream cheese frosting and it'll pass as pumpkin cake.
~ preheat oven to 350 degrees F. ~
1 and 3/4 cup all purpose flour
1 (3.4 oz.) package dry, instant vanilla pudding (unprepared)
1 Tablespoon baking powder
1 teaspoon baking soda
2 teaspoons pumpkin pie spice
1 teaspoon cinnamon
1/2 cup butter, melted (or oil of your choosing)
1 cup sugar
15 oz. pure pumpkin puree
2 large eggs, lightly beaten
1/3 cup chopped walnuts or pecans (optional)
powdered sugar or frosting for topping (optional)
Butter an 8×4 inch loaf pan.
In an large mixing bowl, combine flour, dry pudding mix, baking powder, baking soda, pumpkin pie spice and cinnamon. Use a wire whisk to evenly incorporate all dry ingredients.
In another large mixing bowl, combine melted butter/oil, sugar, pumpkin puree and eggs. Add dry ingredients to wet ingredients and mix just until combined and dry ingredients are moistened.
Pour batter into prepared loaf pan. Top with the chopped nuts, if using.
Bake in preheated oven for 60 to 65 minutes, or just until a wooden skewer that's been inserted into the center of the loaf comes out with a few moist crumbs. Cool in bread pan for 10 minutes. Remove loaf from pan and transfer to a rack to cool completely before slicing. Once loaf is completely cool you may sprinkle a little powdered sugar over it or frost it, if you wish.
Enjoy!
~Melissa
You may enjoy these related posts: