Print Friendly Version
Last night for date night…
We watched  one of the most beautiful movies ever made…
Amelie.
Watch the TRAILER here.
The music is wonderful too.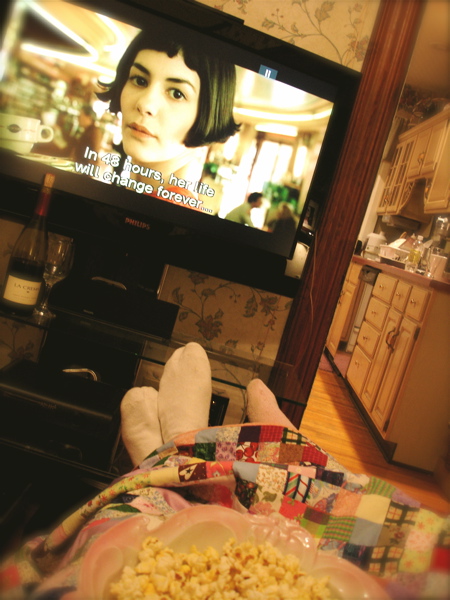 (quilt by Maria Denise Davis of Charming Prints Quilt Designs)
We munched poporn…
sipped La Crema Cab
and
I made Amelie's Plum Cake for our dessert.
photographs by Melissa Placzek
~Amelie Poulain's Plum Cake~
3/4 cup unsalted butter
1 and 1/2 cups all-purpose flour
1/2 teaspoon baking soda
1 teaspoon salt
1/2 cup packed, brown sugar
3 large eggs
1 teaspoon vanilla
2 teaspoons lemon zest
1/4 cup whole-milk plain yogurt
3 plums, halved, pitted, sliced into eighths
cinnamon and sugar for topping
powdered sugar for dusting
Preheat oven to 375 degrees F. Butter a round, 8 inch cake pan. Line bottom with baking parchment. Butter parchment. In a large bowl, combine flour, baking soda and salt. In a separate bowl, combine butter and brown sugar. Mix in eggs, vanilla, lemon zest and sour cream until just combined. Slowly mix in flour mixture. Mix until just combined.Spread batter in pan. Arrange the 3 sliced plums over the top of cake. Sprinkle with cinnamon and sugar. Bake for 30 minutes. Loosely tent with aluminum folil and bake for an additional 30 minutes (or until cake pulls away from sides of pan and tester comes clean.) Cool in pan. Remove to a serving plate. Dust with powdered sugar. Serve with ice cream or whipped cream.
Enjoy!
What did you do for date night this week?
~Melissa
You may enjoy these related posts: