Print Friendly Version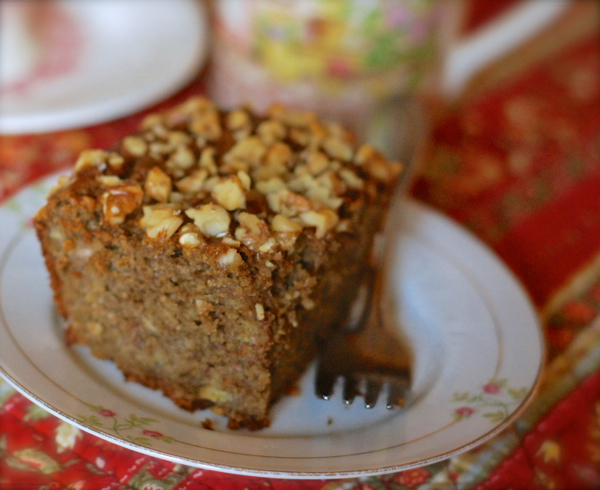 We're drinking lots of hot tea and coffee this time of year, and it's always nice to have a delicious, moist cake to enjoy at tea time.
I decided to look through some of my old Amish recipes and make something new to share. I opted for this simple, moist banana cake. It seems everyone loves a new way to enjoy over-ripe bananas. This cake is one I'll definitely make again and again.
~ preheat oven to 350 degrees F. ~
1/2 cup unsalted butter, softened to room temperature
1 cup packed brown sugar (I used dark)
2 large eggs, lightly beaten
2 medium, overripe bananas, peeled and mashed
1 teaspoon pure vanilla extract
1 and 1/4 cups all purpose flour
1 teaspoon baking soda
1/2 teaspoon salt
1 teaspoon cinnamon
1 cup chopped walnuts or pecans
Generously butter a 9×9 baking pan.
In a large mixing bowl, beat butter and brown sugar until light and fluffy. Beat in eggs, one at a time, until blended. Stir in bananas and vanilla.
In a separate mixing bowl, using a wire whisk, mix the flour, soda, salt, and cinnamon. Add the dry ingredients to the wet ingredients, stirring just until evenly combined. Don't over-mix.
Pour cake batter into prepared baking pan. Top with the chopped nuts. Bake for 30 minutes or until a toothpick comes clean when inserted into the center of the cake.
Enjoy!
~Melissa
You may enjoy these related posts: