Print Friendly Version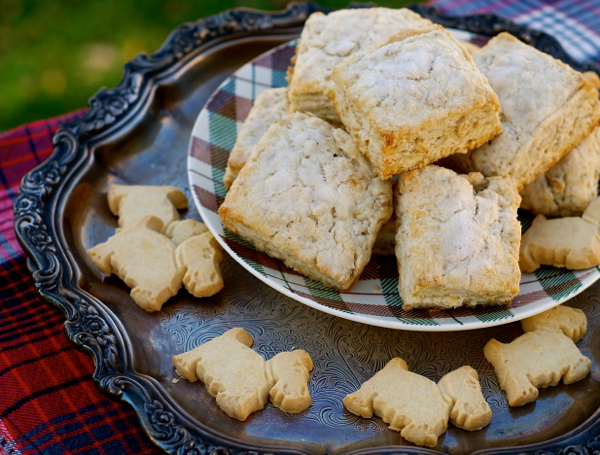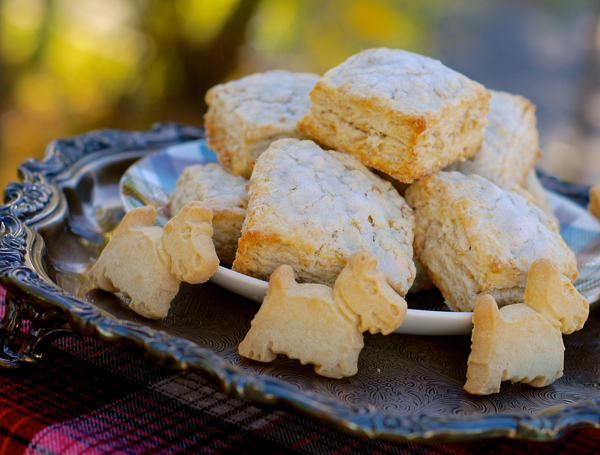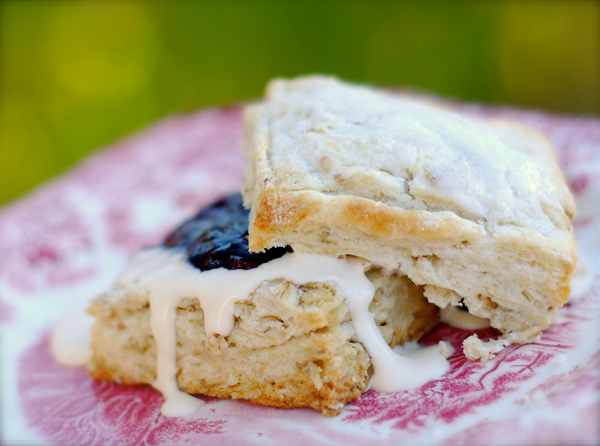 There's nothing better than a warm, flaky scone with thick, rich, clotted cream and jam accompanied by a cup of hearty tea for a decadent weekend breakfast. These scones go together quickly, and I just love the depth of flavor and texture that the oats lend to this recipe.
To add to your Scottish tea experience, you can serve these scones with Walker's Scottie Dog Shortbread cookies, and Harney's Scottish Morn Tea.
makes 9 scones:
~ preheat oven to 350 degrees F. ~
2 cups all purpose flour
1 cup old fashioned rolled oats
1/3 cup sugar + more for sprinkling tops of scones
2 teaspoons baking powder
1/2 teaspoon sea salt
12 Tablespoons cold, unsalted butter, divided
1/3 cup heavy whipping cream
1/3 cup buttermilk
Line baking sheet with parchment paper, or use a Silpat, silicone baking mat.
In a large bowl, combine: flour, oats, sugar, baking powder, and salt. Set aside 2 Tablespoons of the butter. Grate the remaining 10 Tablespoons butter into the flour mixture. Stir in butter so it's distributed evenly. Add cream and buttermilk to the flour mixture. Mix until a large ball forms, and knead until just combined. Place on a lightly floured surface and pat until 1 inch thick, creating a square slab of dough. Using a sharp chef's knife, cut into 9 squares. Place them, 2 inches apart, on prepared baking sheet.
Melt the remaining butter. Brush tops of scones with melted butter. Sprinkle tops with a little sugar. Bake in preheated oven until golden on tops and bottoms (20 to 25 minutes.) Split, and serve with Scottish clotted cream and jam of your choice.
These scones will keep, in a covered container at room temperature, for 4 days.
Enjoy!
~Melissa
You may enjoy these related posts: