Print Friendly Version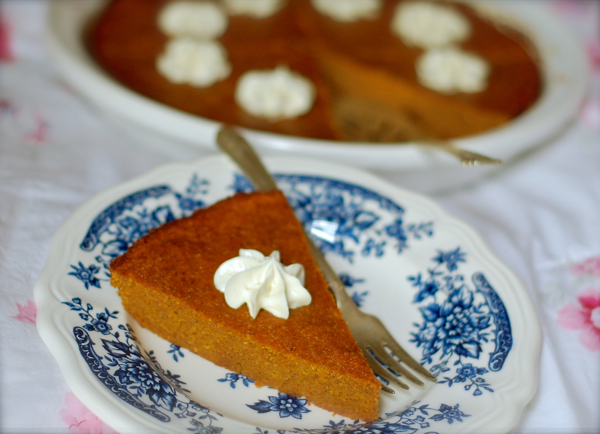 This has become one of my favorite pumpkin spice recipes because it's got all of those heavenly pumpkin pie spices, it's super easy to prepare, and it's actually healthy. Oh, and did I mention it's grain free? Mmmmm hmmmmm…
You can make this yummy dessert in pie form as I did today, or you can make it in a small 9×9 glass cake pan and cut it into bars. Sprinkling the top with a dusting of powdered sugar makes it pretty, or you could make up some of my Neufchatel Greek Yogurt "frosting" and decorate each slice with a little star or dollop just before serving.
I used a combination of raw honey and pure maple syrup to sweeten the pie, but you could certainly use all honey or all maple syrup if you wish.
for the pie:
~ preheat oven to 350 degrees F. ~
1 (15 oz.) can pure pumpkin puree
3/4 cup coconut flour OR almond meal
1/2 cup raw honey
1/4 cup pure maple syrup
2 teaspoons cinnamon
1 teaspoon ground ginger
1/4 teaspoon ground cloves
1 teaspoon baking soda
1/4 teaspoon salt
2 large eggs
coconut oil for greasing pan
Grease a glass pie plate or a 9×9 glass cake pan with approximately 2 teaspoons of coconut oil.
Place all ingredients in a large mixing bowl. Beat until smooth. Spread into prepared pan using a rubber spatula. Smooth top. Bake in preheated oven for 40 to 45 minutes, or until edges are golden brown and center is firm to the touch.
Cool completely. Cut into wedges. Dust with a little powdered sugar or decorate each slice with a dollop of frosting.
for the neufchatel greek yogurt frosting:
4 oz. Neufchatel cheese, softened to room temperature
2 Tablespoons plain Greek yogurt
2 teaspoons pure maple syrup OR raw honey
Beat until smooth.
Spoon onto slices to dollop, or place in a cake decorating tube using the large "star" tip to decorate each slice with an attractive star.
Cover and refrigerate any pie or frosting that won't be served right away. Both the pie and frosting will keep in the refrigerator for up to a week.
Enjoy!
~Melissa
You may enjoy these related posts: