Print Friendly Version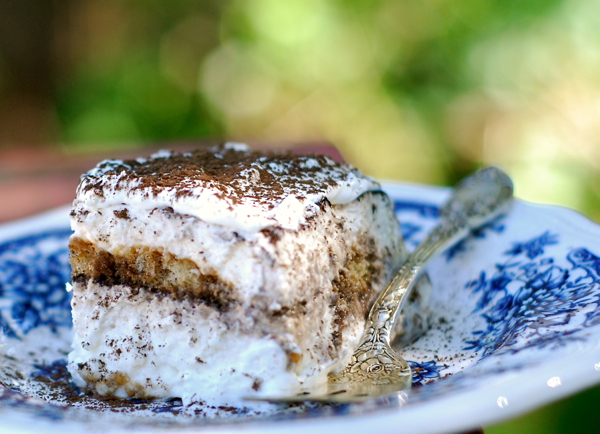 This time my tiramisu came out super fluffy and delicious. It's fun to play with the whipped cream to Mascarpone ratio to see what you like best. Sometimes I like my tiramisu dense and almost like cheesecake, other times I like it dripping with so much espresso and rum that I have to prepare it in a bowl and scoop it out with a spoon, and then there are times like this time. I wanted light, airy, dreamy tiramisu, and that's exactly what this is.
approximately 10 servings
8 oz. Mascarpone cheese OR cream cheese, room temperature
1/3 cup sugar
5 Tablespoons rum, amaretto, or Frangelico
1 teaspoon pure vanilla extract
3 cups *stabilized whipped cream (recipe below)
24 ladyfinger cookies
3/4 cup prepared espresso OR very strong coffee, cooled
1/4 cup unsweetened cocoa powder
Beat Mascarpone and sugar in a medium size bowl until light and creamy. (Approximately 4 minutes.) Beat in rum and vanilla. Gently fold the stabilized whipped cream into the cheese mixture. Arrange half of the ladyfingers in the bottom of a 9×9 glass baking dish. Drizzle with half the espresso. Top with half of the cheese mixture, spreading smooth with a rubber spatula. Sprinkle with half the cocoa powder. Arrange the remaining ladyfingers over cocoa. Drizzle with remaining coffee. Top with remaining cheese mixture, and smooth the top. Sprinkle with the rest of the cocoa. Cover and refrigerate for 4 to 8 hours before cutting and serving.
for the *stabilized whipped cream
2 teaspoons unflavored gelatin
8 teaspoons cold water
2 cups heavy whipping cream
1/2 cup powdered sugar
In a small saucepan, mix gelatin and cold water. Let stand until thick. Place over low heat, whisking constantly, until gelatin dissolves. Remove from heat and cool, whisking occasionally so the gelatin doesn't set.
Whip cream and powdered sugar until slightly thick. Add 3 Tablespoons of the cream mixture to the gelatin mixture. Mix well. Now pour the gelatin mixture into the big bowl of whipped cream while beating. Whip on high until very stiff peaks form.
This will make enough for your tiramisu recipe plus another heaping cup or so. What's great about stabilized cream is that it will keep in your fridge for up to a week without getting wet. It's great on pies, cakes, and coffee drinks too!
Enjoy!
~Melissa
You may enjoy these related posts: