Print Friendly Version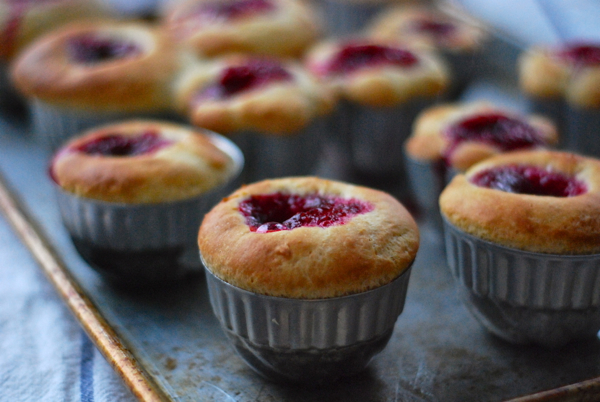 What images come to mind when you hear… snow day?  I immediately relax and start making chicken stock and bread dough. I open the curtains wide, to let in the light and so we can have a panoramic view of the goings-on outside. Gracie hunkers down under a quilt with her sketch pad in hand and her iPod serenading her with sound and inspiration. We drink lots of milky tea with honey, perhaps watch a movie, for SURE snuggle with kitties and bask in the glow of the fireplace.
Well, we had a snow day today. We made Finnish pot roast (recipe and photos coming soon…) and these beautiful, albeit high-maintenance,  jam thimble buns. They take a while to make, that's for sure…three dough raisings, if you can believe that. I realize not everyone has a day when they're home for 6 hours, so I have a short cut recipe I'll share with you. If you doooo have the time, you should try these. They remind me of brioche. Light and buttery and the perfect vehicle for jam. And that name. Isn't is just the cutest?
~ for jam thimble buns ~
makes 12-15
1 package active dry yeast
1/4 cup warm water
3/4 cup milk
2 and 1/2 cups flour (divided)
1/4 cup sugar
1 and 1/2 teaspoons salt
2 large eggs
1/3 cup butter (not margarine)
flour for kneading
1/3 cup raspberry jam (or your favorite)
In a large, glass bowl, dissolve yeast in the 1/4 cup warm water. Heat the milk in microwave until just warm. Allow milk to reach a "luke warm" temperature before adding it to the yeast mixture. Add 1 and 1/2 cups flour when you add the milk and mix well. Cover the bowl with buttered plastic wrap and allow to raise in a warm place for one hour or until light.
Add sugar, salt, eggs, butter, and remaining 1 cup of flour. Mix until just incorporated and even. Transfer dough to a floured work surface and knead for 5 minutes. Place in a buttered bowl, cover with buttered plastic wrap and set in a warm place to rise until doubled in bulk (about one hour.)
Butter some brioche pans or muffin tins well. Using well-floured hands, gently shape portions of the dough into balls and place in the tins. Cover with buttered plastic wrap and allow to rise until doubled (about 30 minutes.)
Remove plastic wrap. Using a floured finger, make an indentation in the center of each bun. Fill with your favorite jam. Bake in a 400 degree oven for about 20 minutes, or until golden and set. Enjoy with plenty of butter and extra jam!
~ for tea cakes ~
After the third raising, instead of making the indentations, simply brush the tops of the rolls with mixture of 1/4 cup powdered sugar and 2 Tablespoons dark rum. Bake at 400 degrees F. for about 20 minutes, or until golden brown and completely set. To serve…butter well and serve with a sprinkle of cinnamon and sugar.
NOTE: for a much easier version of these treats, pick up some frozen sweet dough (found in the freezer section by the frozen bread dough.) Thaw and raise according to package directions. Use in place of the above dough recipe.
XO,
Melissa
You may enjoy these related posts: