Print Friendly Version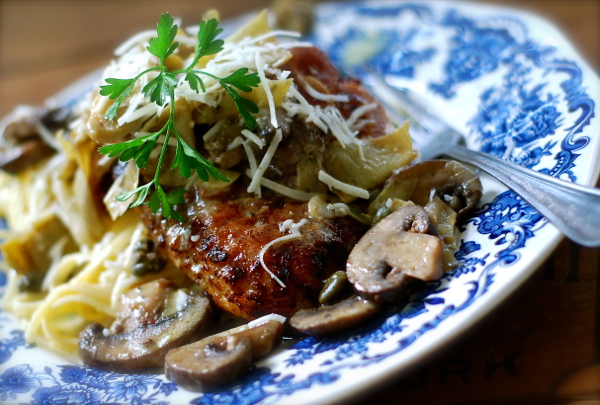 When I have my family over to celebrate a birthday I always let the guest of honor choose what they'd like for their birthday dinner and what kind of cake they want. This year my mom chose coconut cake (like she always does) and this delicious chicken dish that she orders whenever she dines at Romano's Macaroni Grill.
I looked up a recipe for this dish and was BLOWN away by the amount of butter that it calls for. 1 POUND. You read that correctly.
Now, as most of you know I've been concentrating on eating healthy. I've been eating very little butter and have successfully almost eliminated it from my diet altogether. However, with a recipe like this it's difficult to cut corners and still get the maximum flavor that you're looking for.
What to do?
In the end I decided to cut the butter content in half and add 1/2 cup of extra virgin olive oil. I realize this still isn't health food…. but, we did cut the cholesterol in half and I substituted the pancetta in the original recipe with lower-sodium bacon.
This dish is better than the original. Not kidding. Try it and see…
::: Serves 8 hungry people :::
for the lemon butter sauce:
1/2 cup fresh lemon juice
1/4 cup white wine
1/2 cup heavy whipping cream
2 sticks (1/2 lb.) unsalted butter, melted
1/2 cup extra virgin olive oil
sea salt
freshly ground black pepper
Heat lemon juice and white wine in a medium size saucepan over medium heat. Bring to boil and reduce by 1/3. Add cream. Simmer gently, stirring constantly, until mixture thickens. (3 to 4 minutes.) Slowly add butter and olive oil, whisking until completely incorporated. Season to taste with sea salt and freshly ground black pepper. Remove from heat. Keep warm.
for the chicken and pasta:
~preheat oven to 200 degrees F. ~
8 large chicken breasts, pounded flat
olive oil and butter for sauteing chicken
3 cups all purpose flour, seasoned with salt and pepper and 2 teaspoons garlic powder
8 pieces of thick-cut, reduced sodium bacon
12 oz. baby bella mushrooms, washed and sliced
14 oz. marinated artichoke hearts + marinade
1/4 cup capers
1 lb. linguini, cooked according to package directions
2 cups freshly grated Parmigiano Reggiano or Romano cheese
parsley and lemon wedges for garnish
Cook pasta according to package directions. Drain. Transfer to a large bowl and toss with a little olive oil. Cover and keep warm.
Heat 1/4 cup of olive oil and 2 to 4 Tablespoons of butter in a large, deep skillet. Dredge prepared chicken pieces in flour mixture. Working in batches, saute in pan. Turn chicken once during cooking process until cooked through. Remove chicken from skillet and place in a glass baking dish in the preheated oven to keep warm while you cook the rest of the chicken and prepare the vegetables.
Once all chicken is cooked, pour out excess oil from pan. Add bacon, and cook until crispy. Remove bacon from pan. Pour out all but 2 Tablespoons of the drippings. Add mushrooms, artichoke hearts and capers to the pan. Cook until mushrooms are softened and cooked.
To plate:
Toss the cooked pasta with half of the lemon butter sauce. Place some of the pasta on each of 8 plates. Place a chicken breast on each bed of pasta, followed by some of the mushroom mixture, some crumbled bacon, shredded cheese, parsley and lemon. Drizzle a little more sauce over everything. Serve.
Enjoy!
~Melissa
You may enjoy these related posts: