Print Friendly Version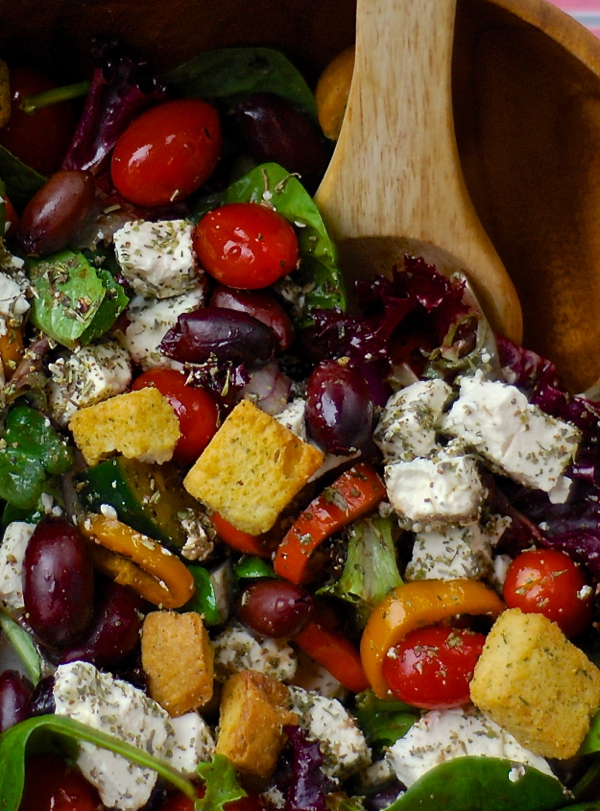 I thought after posting the carby sugary post that I shared yesterday, it would only be right to share something healthy and veggie-laden today.
This is one of the easiest, yummiest salads in my repertoire. Sometimes I make it as a side salad, and sometimes I top it with grilled chicken strips and make it the main event.
for 4 BIG salads:
8 cups mixed spring greens, lamb's lettuce leaves or baby spinach
1 cup grape tomatoes
1 cup coarse chopped bell pepper (this time I used orange and yellow)
6 oz. greek olives (drained)
1 cucumber, cubed
1/3 cup feta chopped and rolled in Italian herbs
1 thick slice purple onion, chopped fine
big croutons (homemade are best!)
4 grilled, boneless skinless chicken breasts cut into strips (optional)
for the dressing:
1/2 cup unfiltered extra virgin olive oil
4 Tablespoons red wine vinegar
juice of one large lemon
2 teaspoons lemon zest
1 large garlic clove, minced
2 Tablespoons grated Parmesan cheese
Combine all salad ingredients in a big salad bowl until all ingredients are evenly incorporated. Place all of the dressing ingredients in a canning jar and shake well until thoroughly mixed. Pour all of the dressing over the salad. Mix well. Sprinkle salad with coarse sea salt and freshly ground pepper.
Enjoy!
~Melissa
You may enjoy these related posts: