Print Friendly Version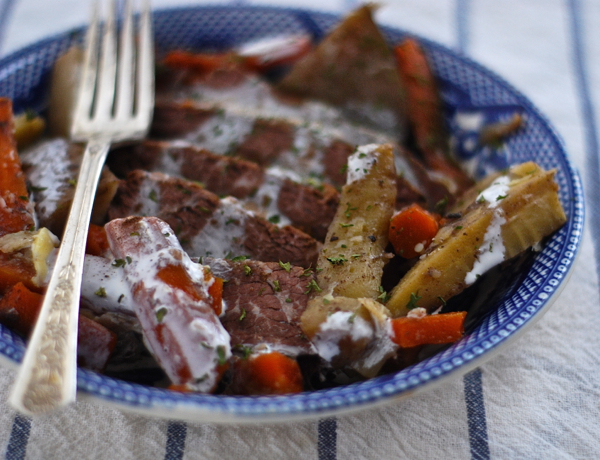 What a great week it's been for cooking and photographing. I'm getting so much done, and it feels good. Tonight the hubby has a meeting in the cities, so Gracie and I are ordering a pizza and watching movies. A night off from cooking sort of seems like a mini vacation, and I like that.
Here's a little something I made a few nights ago when it was miserable outside. Grace was home from school for a snow day, but it wasn't really snowing outside and it wasn't really raining either. It was more like slush was falling from the sky. A perfect day to just stay inside and cook, and that's what we did. The ingredients in this are surprisingly simple, and I think that's what makes it so good. I love the addition of allspice. What is your favorite snow day fare?
4 lb. chuck arm roast of beef
5 large carrots, peeled and cut into slender sticks
5 smallish parsnips, peeled and cut into slender sticks
4 large potatoes, unpeeled and cut into 2 inch chunks
1 large red onion
1 teaspoon allspice
1/4 teaspoon nutmeg
2 large bay leaves
2 teaspoons coarse sea salt
2 teaspoons freshly ground black pepper
1/2 cup heavy whipping cream
1/4 cup fresh parsley, chopped fine (or 2 Tablespoons dry)
Preheat oven to 375 degrees F. Place all of the ingredients, except the cream and parsley, in a heavy, cast iron Dutch oven. Pour three cups of water over everything. Cover Dutch oven and bake for about two hours, turning the meat after one hour. The roast is done when it's very soft and tender.
Serve in wide shallow bowls with a drizzle of cream and a sprinkle of parsley. Salt and pepper to taste.
Enjoy!
~Melissa
You may enjoy these related posts: