Print Friendly Version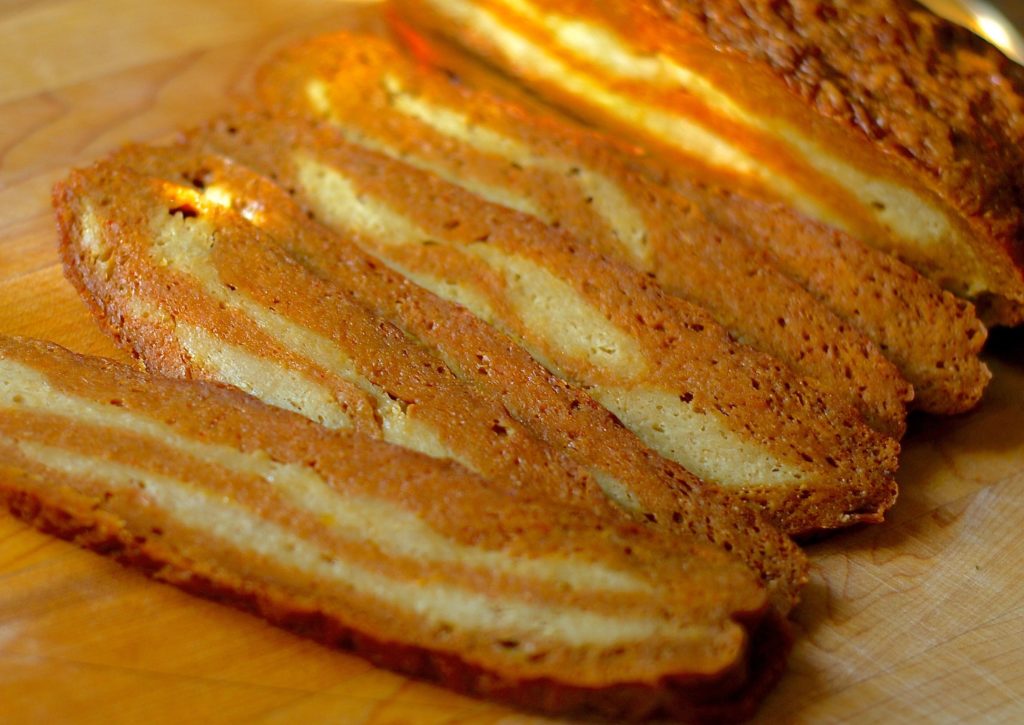 I made vegan bacon. That happened.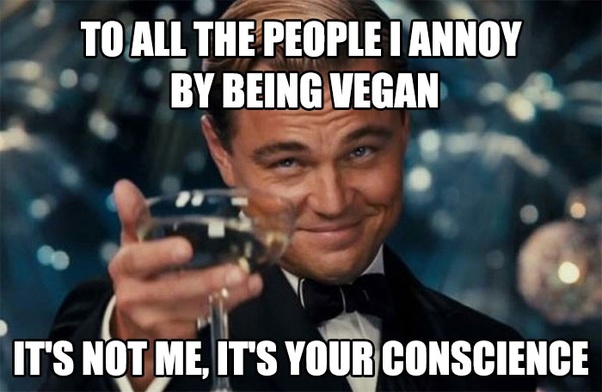 Fun fact: Did you know that pork bacon (and other processed meats like hot dogs, sausage, ham, corned beef, beef jerky, canned meats, and many others) have been classified as class one carcinogens? Other carcinogens in this category are tobacco, pesticides, and arsenic. Yum, yum. Eating just two slices of pork bacon a day raises your chances of developing colon cancer by 18%. Yikes.
Want a yummy alternative? Here's the recipe. I suggest serving it with pancakes, an obscene amount of vegan butter, and pure maple syrup. Or… make a kick ass vegan BLT! You won't be sorry. This stuff is awesome!
So basically you want to make a light seitan dough and a dark seitan dough. You layer them, bake them, and voila. Bacon that tastes delicious, is cruelty free, and won't block your arteries or do other weird stuff to your body. Yay!
~ preheat oven to 325 degrees F. ~
Dough 1 Dry Ingredients:
1 cup vital wheat gluten
2 Tablespoons nutritional yeast
2 teaspoons onion powder
2 heaping teaspoons smoked paprika
1/4 teaspoon white pepper
Dough 1 Liquid Ingredients:
1/2 cup water
2 Tablespoons pure maple syrup or brown sugar
2 Tablespoons light soy sauce
2 Tablespoons liquid smoke
1 Tablespoon tomato paste
1 Tablespoon vegan Worcestershire sauce
1 Tablespoon olive oil
Whisk dry ingredients in a big mixing bowl. Mix liquid ingredients in a separate bowl until the sugar dissolves (if using.) Add the liquid to the dry ingredients. Knead until gluten forms strands. Divide into three pieces. Set aside.
Dough 2 Dry Ingredients:
1/3 cup vital wheat gluten
1 Tablespoon chickpea flour
1 teaspoon garlic powder
Dough 2 Liquid Ingredients:
1/3 cup water
1 teaspoon sea salt
1 Tablespoon olive oil
Repeat process you used for Dough 1. Once gluten strings form, divide dough into two pieces.
Place a large sheet of cooking parchment on a work surface (approximately 18 inches.) Flatten a ball of Dough 1 to 1/4 inch thick using fingers. Don't worry, it doesn't have to be perfect. Spead a piece of Dough 2 over the first piece so it covers it as much as possible. Repeat, alternating doughs, ending with a piece of Dough 1. Shape into rectangular slab. Wrap flat, and seal tightly in the parchment. Then wrap in a big piece of aluminum foil. Pinch to seal tightly so no dough is exposed. Place, seam side down, on a metal baking sheet and bake for 90 minutes.
Remove from oven. Cool completely in the parchment/foil wrap. Place in refrigerator to chill overnight before slicing into thin strips.
Coat bottom of skillet with a thin layer of olive oil or vegan butter. Once hot, fry bacon until crispy around edges, flipping as needed. Don't overcook.
Enjoy!
~Melissa
You may enjoy these related posts: